Windows 10 PC refreshes in business land helped Lenovo report double digit sales growth for the first quarter of its fiscal 2019 earnings - the Chinese giant made hay while the sun shone.
Revenue bounced 19 per cent year-on-year to $11.91bn, but two thirds of this came from PC sales, which went up 19.8 per cent in the quarter to effectively $8bn ($7.998bn if you want to be pedantic). So much for Lenovo's lessening reliance on computers.
"The global PC market continued to show signs of stabilisation thanks to the continued commercial refresh and stabilising consumer demand," Lenovo said in a statement.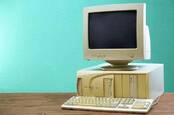 PC shipments just rose, thanks to Windows 10
READ MORE
Microsoft ends extended support for Windows 7 on 14 January 2020, meaning there'll be no more security updates or technical advice after that date unless you pay heavily for a special contract. The upgrade cycle for enterprises replacing dusty PCs has been raging since the end of last year and may have peaked.
Lenovo looks to have fully exploited this and regained the global PC crown in the quarter from HP Inc, according to Gartner's numbers. The results were lifted by a contribution from Fujitsu's computer division that Lenovo bought in 2017. Some 63 per cent of PC sales were to businesses, Lenovo said.
Sales of smart devices declined to $310m from $330m in the prior year. Lenovo breezed over this sore point in terms of commentary but did say it had rolled out Smart Office to customers and a formed dedicated sales team that had seen wins with the device-as-a-service line.
Things weren't so cheery in the Mobile Business Group where Lenovo has already cut the annual expense bill by $105m and is "on track" to bring it to below $1bn. Lenovo has to counter shrinking mobile sales, which fell six per cent to $1.64bn in the quarter.
The Data Centre Business Group, mostly comprised of IBM's former x86 server business, grew 68 per cent year-on-year to $1.62bn - the third straight quarter of double digit revenue rises. Previous efforts to build the sales team and get the channel on side have clearly worked.
Hyper scale, software defined and HPC were set out for special mention by Lenovo as the areas that grew the most. Operating losses for the division narrowed to $33m in its Q1 versus an operating loss of $114m.
China accounted for 25 per cent of total group sales, the Americas some 33 per cent, EMEA 23 per cent and Asia Pacific 19 per cent.
Group operating profit was $180m compared to an operating loss of $6m in the prior year period. Net profit after tax of $77m compared to a net loss of $72m. ®