This article is more than 1 year old
Your Phone prematurely ejected, Skype texting on the way, and 900 more years of Windows
Three SMS platforms? Oh Redmond, you spoil us
As Alexa and Cortana kicked off a conversation more awkward than the worst Tinder date and Visual Studio 15.8 dropped into the hands of delighted developers, what else happened last week at Microsoft?
Your Phone is here! Oh no it isn't! Oh yes it is!
Someone in Redmond is having to spend time on the naughty step as the Android incarnation of mobile integration app, Your Phone, was made available to users of the Windows 10 April Update (aka 1803) a little earlier than planned.
Your Phone, which is able to grab photos and not much else from an Android phone, was previously a Windows Insider-only app. It was therefore a little surprising to see it being lobbed at normal users via the store.
An "oops" tweet from Master of Mobility at Microsoft, Vishnu Nath, soon appeared.
#YourPhone folks on 1803, we aren't quite ready for you yet. We will be back once we are! For now we would love your feedback on WIP.

— Vishnu Nath (@VishnuNath) August 15, 2018
Your Phone remains in the Microsoft store, but iOS users must remain patient for the time being. The iPhone incarnation of the app, which will allow Edge browsing to hop from their phone to their Windows desktop, has yet to make an appearance.
Skype gets in on the Android SMS action
While Windows Insiders may have felt aggrieved about their preview being unleashed upon the masses, Skype Insiders have been teased with SMS Connect appearing in the chat platform.
Based on your feedback for this feature, we're really excited to introduce SMS Connect to Insiders! You've seen our sneak peak of the setting in 8.29. 🙂 We'll let you know what scenarios to help test in future builds as we light up the feature.

— Skype Insider (@SkypeInsider) August 17, 2018
As with future versions of Your Phone, SMS Connect will allow Android users to send and receive text messages from the Skype desktop app. Just like they can, in theory, already do with the Cortana app.
Three ways to do the same thing is unlikely to confuse users at all and it is surely a matter of time before Android SMS integration gets shoehorned into Teams and Microsoft watchers can shout "bingo!" in unison.
Outside of messaging, Skype Insiders can also expect to see a preview of chat archiving, thanks to Microsoft "hearing your feedback". Sadly, Redmond's ears have yet to hear what remains the number one requested feature on its UserVoice forum: "Make it work like it used to."
Windows 10: Sticky, skippy and here forever
The Windows 10 Insider builds continued to drop from Redmond last week. As the public release of the next version of the operating system nears (likely some time toward the end of September) the latest build, 17741, featured little more than bug fixes. The brave souls on the Skip Ahead track for 2019's Windows 10 (aka 19H1) also saw a minor release in the form of build 18219.
Insiders hoping to get some skip-ahead action of their own are likely to be disappointed, however. As promised by the Windows team, Insiders can no longer join the exclusive Skipper club. Those who did not opt in will now have to wait until RS5 has been released.
Not being in the Skipper club means that users will have to temper their virtual Post-it excitement as Microsoft's Reza Jooyandeh trailed the upcoming version 3 of Sticky Notes.
Sticky Notes v3.0 is coming to #SkipAhead ring of Windows soon. We cannot wait to share the details with you #WindowsInsiders! pic.twitter.com/hzAkgIuxSl

— Reza Jooyandeh 🌈 (@RezaJooyandeh) August 14, 2018
Sticky Notes had roots in the venerable tablet edition of Windows XP, before making an appearance as a gadget in Vista and going standalone with Windows 7. The application allows a user to festoon their desktop with Post-it-like notes. The notes have a modicum of intelligence, and the app can decipher what has been written by the user. This could, for example, create reminders or check flight details. After a fashion.
Version 3 sees the arrival of formatting along with improvements in performance and accessibility. And yes, it will have a dark mode for those who, like Lego Batman, love their blacks and greys.
Finally, as a selection of fixes was slid from beneath the door of the broom cupboard where the Windows 10 Mobile team lives these days, eagle-eyed Register reader Philip Coakes found evidence in a security advisory that Windows is with us for the long term.
Another 900 years, to be precise.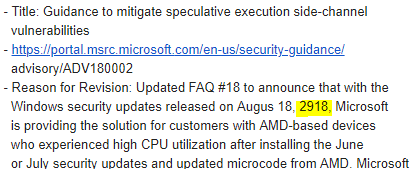 Click to enlarge
Or maybe it just feels that way. ®