Putting the digital into "digital secretary", Jeremy Wright has been slated to appear at the UK Tory party's annual gabfest as a hologram.
According to The Sunday Times, inside sources said the idea of having the secretary of state appear as a flickering light display was a part of efforts to make the conference "less boring".
The move would see Wright follow in the holographic footprints of famous musicians including Michael Jackson and Tupac, whose holograms allowed them to "perform" from beyond the grave – though El Reg reckons the showing will be more Arnold J Rimmer than Freddie Mercury.
However, there is widespread speculation that the plan was not of Wright's making.
Wright, a criminal lawyer by training, took up the role at the Department for Digital, Culture, Media and Sport in July, after Matt Hancock was promoted to health secretary – and did not impress onlookers as a technophile.
At the time, the former attorney general didn't have an active Twitter account (he does now) and had made infrequent references to digital, IT or technology in Parliament. Meanwhile, his initial comments focused on the culture, media and sport sides of the brief.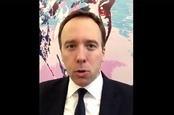 What a Hancock-up: MP's social network app is a privacy disaster
READ MORE
So it is unsurprising that Cabinet sources are pointing the finger at his predecessor, Matt Hancock, who was no doubt still high on the media feeding frenzy that was the launch of his eponymous mobile app.
The Sunday Times reported that Wright was considering whether to go along with the holographic plan, but other outlets have since reported that it is so far down the line he isn't going to have much choice.
Other ideas to make the conference more exciting reportedly include more audience participation – although presumably in a more controlled way than last year, when a prankster handed prime minister Theresa May a P45 during her keynote.
That speech also saw the PM's set fall apart, with the letter "F" falling off the Tory slogan behind her. Wright will no doubt be hoping that the party's tech team is better than its set builders.
We've asked the Conservatives for comment. ®