This article is more than 1 year old
Dell EMC stumbles into composable systems late waving MX7000 box
Kit lands early September
After some engineering soul searching, Dell EMC has finally arrived late to the composable system market with a box comprised of OME-M software and an MX7000 chassis for servers, storage and networking.
This long-awaited tech joins HPE's pioneering Synergy – mooted in late 2015 – along with competing systems from DriveScale, Liqid and Western Digital.
All these suppliers think customers prefer to provision or compose resource pools of compute, storage and networking as needed, rather than buying separate islands of kit for different groups of applications that can result in under-utilised resources and/or stranded components.
The MX7000 is part of Dell EMC's Kinetic infrastructure, and is a 7U chassis with eight bays for vertically mounted server or storage sleds. Up to 20 chassis can be managed by OpenManage Enterprise Modular Edition (OME-M) software.
OpenManage Enterprise (OME) can manage multiple MX7000 groups up to total of 8,000.
Networking
The MX7000 has been made adaptable for other and future compute and networking fabric technologies, such as GPUs, FPGAs, storage-class memory, Gen Z fabrics, 50GbitE and in-chassis 100GbitE, etc, by having no mid-plane.
Instead the compact servers connect directly to IO modules. That means networking modules can be updated independently of server sleds and vice versa.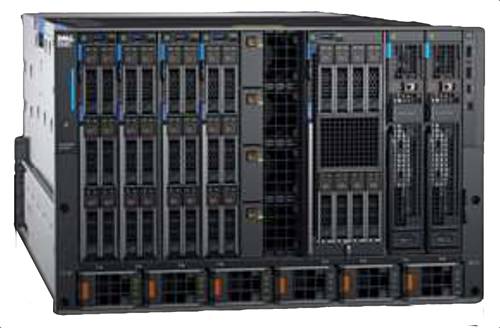 MX7000 chassis
There are three IO fabrics, with redundant modules for availability. The server sleds contain both servers and direct-attached storage. The storage sleds contain SAS drives and a 12Gbit/s SAS fabric links the storage sleds and server sleds.
There is a 25GbitE fabric connecting server sleds within a chassis and 100GbitE uplinks to other chassis or the data centre networking fabric.
External shared storage arrays can connect to an MX700 across a 32Gbit/s Fibre Channel network; the third IO fabric. They can also connect via Ethernet.
Chassis module options
An MX7000 can be populated with server and/or storage sleds:
MX740c full-width 2-socket compute sled with up to two 28-core Xeon SPs, 24 DDR4 DIMM slots, and up to six 2.5-inch SAS/SATA (HDD/SDD) or NVMe SSD drives plus optional M.2 boot
MX840c double-width 4-socket compute sled, up to four 28-core Xeon SPs, 48 DDR4 DIMM slots, and up to eight 2.5-inch SAS/SATA (HDD/SDD) or NVMe SSD drives plus optional M.2 boot
MX5016s single-width storage sled with up sixteen 2.5-inch hot-pluggable drives and redundant hot serviceable expanders for availability
Storage sled drives can be assigned to any server in a sled. Directly attached drives in a server sled are local to that sled and cannot be shared.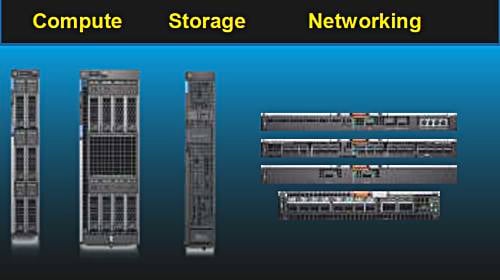 MX7000 components
Switch modules are mounted horizontally in the chassis and there are four available:
MX5108n Ethernet switch – 8 x 25GbitE server facing ports, 2 x 100GbitE ports, 1 x 40GbitE port, and 4 x 10GBase-T ports
MX9116n Fabric Switching Engine – 16 x 25GbitE server facing ports, 2 x 100GbitE/8 x 32Gbit/s FC unified ports, 2 x 100GbitE ports, and 12 Fabric Expansion ports
MX7116n Fabric Expander Module – 16 x 25GbitE server-facing ports and 2 Fabric Expansion ports
MXG610s Fibre Channel Switch 16 x 32Gbit/s FC internal ports, 8 x 32G FC SFP+ ports, and 2 QSFP 4 x 32Gbit/s FC uplink ports
Management
OME-M is a member of Dell EMC's OME product family. It runs inside the MX7000 chassis, on a pair of embedded servers for high availability, separate from the compute sleds and not using any of their capacity.
It manages all the nodes, with up to 160 servers across 20 MX chassis, and provides profile-based deployment of compute and storage (at drive level). Admin staff can associate a profile with a slot or server. MX7000 chassis can be automatically discovered.
OME-M, like OME, has a RESTful API, which helps automate multiple tasks and integration with third-party tools. Admins can manage servers remotely with the OpenManage Mobile application.
Move to composability
Composable is based on the idea that server systems can be disaggregated and their compute and storage resources shared between applications to avoid under-utilisation. However, the same logic can be applied to disaggregation within the servers themselves; of memory and different types of compute resource.
Using a control plane, each of these items can be treated as a reusable resource and dynamically assigned in total or in part to applications, and revert back to the pool when no longer needed.
To do that a systems fabric is needed to set up a composed system and enable the elements to interoperate. Different suppliers such as HPE, DriveScale, Liqid and Western Digital (OpenFlex) each have their own composable systems tech for control plane implementation and have made fabric choices.
Composable system suppliers
Synergy is probably the composable infrastructure market leader, with around 100 customers who have ordered several thousand modules. The system features a dedicated in-chassis Composer HW/SW module which controls the 10U chassis of composable elements via a Virtual Connect fabric. Chassis can be added in a scale-out manner
DriveScale has a composable server and disk drive storage infrastructure, with Western Digital NVMe SSD support added (the Ultrastar Serv24-HA.) The DriveScale SW can provision flash capacity down to a "slice of a drive" level. The system aims to provide equivalent composability to that which hyperscalar users enjoy and DriveScale has expressed support for WD's OpenFlex technology.
Liqid has a composable Grid PCIe structure that allows GPUs to be composed as well as CPUs, storage and networking.
Western Digital's OpenFlex has SSD or disk drive chassis linked to servers via an NVMe-oF interconnect, with the HW and SW management being via the KingFish API. This is supported by a set of ecosystem partners, which includes Supermicro, Inspur, DriveScale and Kaminario.
Supermicro also has composable rack scale servers using Intel's RSD concept.
tl;dr
Dell EMC's MX7000 composability scheme is based on its existing server, storage, networking, and management software technology bases, integrated in a chassis that allows for the use of future networking technologies, like Gen Z, and for further server disaggregation into CPUs, GPUs, FPGAs and storage-class memory.
That makes it quite easy for its customer base and channel to adopt, with no initial jump to a PCIe architecture, NVMe fabric or the use of GPUs and/or FPGAs.
PowerEdge MX will be available globally beginning 12 September. ®