This article is more than 1 year old
It liiives! Sorta. Gentle azure glow of Windows XP clocked in Tesco's self-checkouts, no less
Microsoft still supports some embedded XP derivatives
OK, so it's not quite Windows for Warships, but Tesco's point-of-sale terminals appear to still be running Windows XP more than two years after Microsoft ended support for the aged operating system.
A hungry vulture looking for some luncheon snapped this Tesco PoS terminal which seemed to have crashed and rebooted, going via CHKDSK on the way.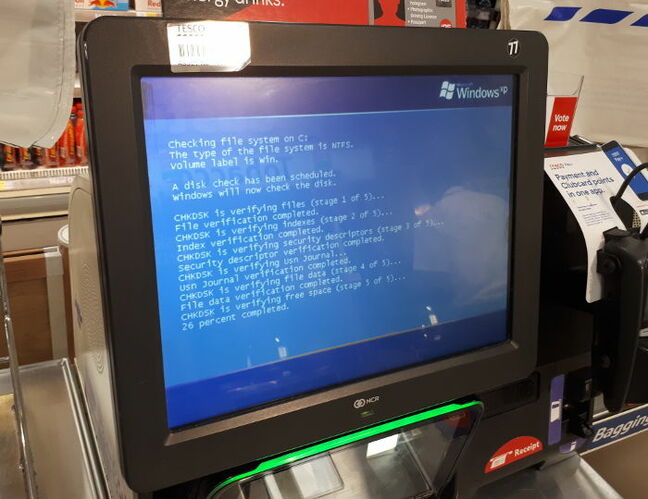 Windows XP, as seen running on a Tesco self-checkout in the year of our Gates 2018
This appears to be mildly amusing alarming because Microsoft pulled the plug on XP back in 2014, with security updates for the venerable operating system ending in April 2016 when Redmond finally stopped issuing patches for XP Embedded SP3, as used on numerous kiosks, cashpoint machines and PoS terminals.
Yet all may not be as it seems, in spite of any immediate security-related alarm bells ringing in readers' shell-like.
It is possible (Tesco's press office didn't respond to our gentle queries) that Big T's fleet of checkouts may be running on one of the very last flavours of XP still to enjoy support from Microsoft, Windows Embedded Standard 2009, aka WES09, or Windows Embedded POSReady 2009.
Built on the XP codebase, these embedded operating systems hit end-of-life in January and April 2019 respectively, as Microsoft explained four years ago. Redmond itself has a list of available updates for POSReady 2009 here.
The self-checkout itself is made by American company NCR, who hadn't given us a substantive response by the time of writing. NCR acknowledges that lots of its kit still runs on XP, with the company forlornly noting in a security update dated 31 April 2018 [sic], about mitigation measures for the Spectre Intel CPU vuln: "Microsoft has not made a patch available for Windows XP."
Tesco did not respond when we asked how many self-service checkouts it has running XP.
Next time you see a self-service checkout throw a wobbly and revert to XP, don't panic straightaway. Though consumer and enterprise XP was sent to the knackers' yard years ago, it still soldiers on today, lovingly hosting software that nags you to take the unexpected item out of the bagging area. ®