Unpicking the Pixel puzzle: Why Google is struggling to impress
Despite respectable sales, it's an uphill battle
Analysis Some 15 years ago at a private function, I explained to a bewildered and grumpy Larry Page how the mobile phone business worked.
Page was besotted with his new gadget, a Danger Hiptop, a soap-bar shaped QWERTY phone that ran Java, which miraculously squeezed all the useful things about the internet (the web, chat, email) onto its pokey mono screen.
We went through why anyone couldn't just flog a phone, and the carrier subsidy model. Page wasn't rich and Google wasn't famous – but before long they would be. Two years later, and by now much richer, Google bought the new company started by the creator of the Hiptop: Android Inc.
I thought it remarkable that one of the "smartest guys in the room", as Google's PhDs were styled, didn't know the fundamentals of such a huge and relevant industry to Google. But anyone approaching the phone business in the United States in 2003 with a blank slate could be forgiven for being grumpy. The networks or "carriers", insiders would joke, were so called because of the enormous amount of debt they carried (which had increased dramatically as a result of the recent 3G auctions). They seemed defensive, hostile to data (unless it was the ludicrous WAP), and moved at a glacial pace. Mobile phones were still referred to as "terminals". Mobile networks were like AOL, but far worse.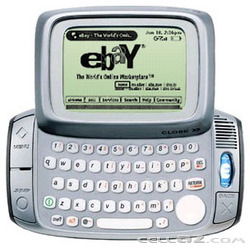 The phone that started it all at Google: Danger's Hiptop (2002)
Steve Jobs had a low opinion of the mobile networks too, but reached a canny accommodation with them. His "terminal", the iPhone, created such strong consumer demand that it put him in a position of great negotiating strength. He dispelled the "sticker shock" that deterred ordinary consumers from adding a data bundle to their plan by insisting that new iPhones came with a decent data bundle (even though it could only operate at 2G speeds at first). We mocked the exclusives at the time, but Apple drove business to the networks, who had to learn their new place in the world.
While Jobs had examined and learned, and then proceeded in a way in which left something on the table for both Apple and the networks, I'm not sure Google has learned so much. When I met Page, Google was on the cusp of transformation: from a technology company that regularly astonished us, to a B2B consumer data processing company, like Experian. The brightest brains work on Google's core advertising brokerage, and the company is fundamentally about acquiring and crunching personal data. "Technology" is largely acquired via M&A, and then often discarded. That's key to understanding the Pixel puzzle: it isn't really so much of a puzzle.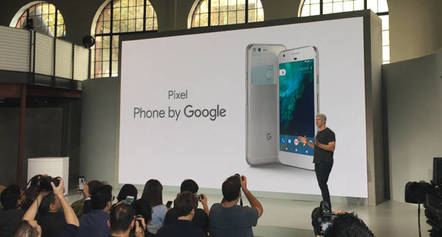 The Pixel is launched, October 2016
After years of making phone hobbyists happy with a niche sideline in own-brand hardware, in 2016 Google decided to turn the niche into a full-on flagship. Nexus phones were sold direct at a decent price, with a simple proposition: no cruft. But Pixel – backed by hundreds of millions of dollars of marketing, and eye-watering prices – would henceforth take on Samsung and Apple.
Today Pixel does one thing very well, often better than rival phones, and it's an important thing – photos. Years of quiet investment in HDR+ algorithms have resulted in a camera app that produces tasteful and well-balanced photos, and in particular, warm and appealing portraits. As I wrote recently, it's one of few technology "Wows" Google has produced in over a decade. But the Pixel is only really three-quarters of a flagship. In recent days, leaks of the third-generation Pixel have emerged and been met with dismay from fans.
"Is anybody actually gonna get the Pixel 3 XL?" asked one.
Fans are not enamoured with the huge notch and clunky bezels. More of a concern is that Google is competing in the top tier with prices nudging £1,000 for a handset, but without the ecosystem. In particular, the infrastructure required to give the punter confidence isn't there. Networks aren't motivated to flog Pixels. The retail staff don't recommend them. The returns procedure is notorious. In consumer electronics, it may aspire to be a Samsung or Sony on a smaller scale, but it heroically under-delivers. Pixel aspires to be a luxury brand – with a Chromebook starting at £999 – but the phones lack the design chops or the features to merit premium status.