This article is more than 1 year old
Cohesity's Helios tool tells you when your cluster's in a fluster
SaaS kit compares users' setups to reveal best practices
Secondary storage hyper-converger Cohesity has introduced a SaaS management tool.
Helios is designed to provide a global view of a customer's Cohesity Data Platform sites; local and remote, on-premises and in the public cloud.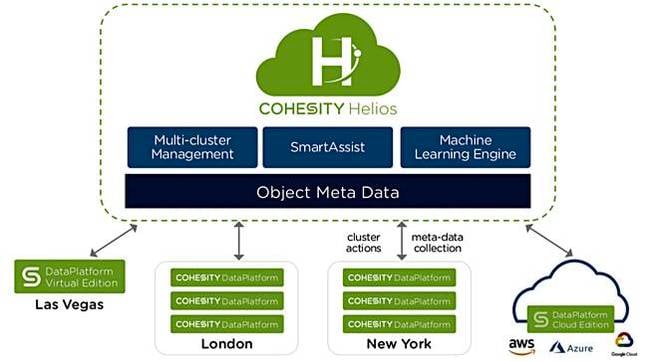 Helios components
It has a single dashboard with analytics and machine learning capabilities to - hopefully - generate insights from data. Customers can define SLAs by job and workload and SmartAssist will evaluate required versus available resources (e.g. compute, storage) across all clusters.
Helios monitors how infrastructure is being used and, based on current storage utilisation and workload makeup, draws on ML to determine what adjustments or modifications may be necessary in the future.
It also evaluates customers' operational metadata sets and analyses operational metadata. Users can compare infrastructure utilisation against anonymised benchmarks from their peers and potentially uncover best practices.
Based on global operational metadata, Helios looks at the actions taken by a customer's IT admin function across their sites and alerts them if they don't follow what it considers to be best practices, such as a financial services customer not using encryption.
This tool can automate corrective action for failure of non-critical system resources, notifying Cohesity's global support team of problems.
Admin staff can test the impact of proposed changes across their clusters and work out alternative approaches with "what-if" analyses powered by machine learning.
Helios has a Cohesity Analytics Workbench (AWB), which comes with three applications:
Pattern Finder to detect patterns to help ensure compliance, such as character strings looking like a social security number or a phone number
Password Detection app searches across global data sets to uncover passwords that fail to meet best practices, including personal or company names, or being stored in plain text
Video Compression app can reduce the size of large media files to save space
SaaS-based management is getting popular. Cohesity competitor Rubrik introduced its Polaris management tool in April. Druva also has its own DCP SaaS management product. ®