This article is more than 1 year old
Winner, Winner, prison dinner: Five years in the clink for NSA leaker
Longest-ever sentence for Russia hack whistleblower as defenders claim public service
A former NSA translator who leaked a classified report into attempted Russian hacking of US voting systems has been sentenced to 63 months behind bars.
Reality Winner received the longest sentence ever imposed for the unauthorized release of government information to the media. Her defenders argue she should be hailed as a whistleblower who performed an important public service.
Back in May 2017 and just a few months in her job at America's National Security Agency, Winner printed out a top-secret dossier that detailed attempts by Kremlin agents to hack into US voting systems – and smuggled it out of the security agency in her underwear. She then mailed it anonymously to Snowden fan club newsletter The Intercept, which later published the five-page report.
Winner confessed she acted out of anger over what was happening to her country, one of the world's leading democracies. At the time, speculation was rife about Russian interference in the US presidential elections, and the same morning she printed off the report, President Trump fired FBI director James Comey in a move most consider an effort to shut down investigations into that meddling.
The dossier she leaked revealed that American intelligence agencies knew of Russia's determined efforts to hack into voting systems – something that, when it was made public, came as news to even the election officials in Florida whose systems had been targeted.
It also pointed to a wider pattern of interference with America's democratic processes that is being probed by special investigator Robert Mueller among others.
Defenders of Winner's actions have pointed to the fact that a significantly greater depth of information about those hacking efforts is now a matter of public record thanks to Mueller's indictment of 12 Russian agents, released in July this year.
To the max
Regardless, the judge in Winner's case, James Randal Hall, sitting in a federal district court in southern Georgia, today gave her the maximum sentence allowable. An initial maximum sentence of 10 years was reduced in order to limit courtroom discussion of confidential information.
It is the longest-ever sentence in the US for someone who has leaked confidential documents to the media – and one that many feel is disproportionate given the actual damage caused. The report covered the attempted hacking of voting systems by Russian agents and as such did not put anyone's life at risk, nor reveal the identity of any agents, nor even disclose any methods foreign intelligence agencies were not already aware of.
In 2013, a former FBI agent was sentenced to 43 months for leaking classified information about a foiled Yemeni bomb plot; in 2015, former CIA agent Jeffrey Sterling was sentenced to 42 months in jail for leaking classified information over plans to disrupt Iran's nuclear program. In 2013, John Kiriakou, a former CIA agent, was given 30 months for revealing the identity of an undercover agent.
Initially, Winner had pled not guilty convinced that a jury would decline to find her guilty given the broader context. But the government removed the option of a jury trial by prosecuting her under espionage laws. She changed her plea to guilty.
In court on Thursday, Winner apologized to the judge, and said she accepted "full responsibility" for her "undeniable mistake."
Winner was arrested just a few weeks after she mailed the top-secret document following an internal NSA investigation that was greatly assisted by a decision by The Intercept to send scans of the leaked document to intelligence officials to seek confirmation it was real. The journalists also indirectly revealed the location of the facility the documents had come from by pointing out it had been posted from Augusta, Georgia, near where she worked.
Fail
Unfortunately for Winner, The Intercept failed to protect its source by not obscuring telltale yellow dots on the printouts nor the document's title string.
Those hidden dots revealed that the document had been printed out by a printer with model number 54 and serial number 29535218 on May 9, 2017, at 6.20am. The document title on the page also confirmed the exact file that had been printed. Rather than quote a summary of the dossier to the agency's press office, without identifying the precise file nor its security markings, the publication sent exact copies of the printout into the hands of Uncle Sam's spies.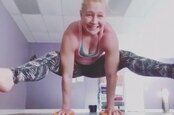 Angst in her pants: Alleged US govt leaker Reality Winner stashed docs in her pantyhose
READ MORE
It was therefore extremely easy from that point for the NSA to identify who the leaker was from their printer logs – only six people had printed out the report. The spy agency also ran a check on anyone that had communicated with The Intercept and discovered that she had earlier sent an email to the site from her personal Gmail using her work PC asking for a transcript of a podcast. It then ran a check on all of Winner's activities, turning up comments and chats that supported Edward Snowden and criticized American capitalism.
The Intercept subsequently gave some financial support to Winner's legal defense.
Following her sentencing Thursday for 63 months, the publication issued this mea culpa: "We deeply regret the role that we played in failing to adequately protect an anonymous source…" No, wait, only joking, of course it didn't: the Intercept is never wrong.
Instead it attempted to downplay its role by noting in a statement: "We did not know the identity of the source who had sent it to us. Shortly after we posted our story, we learned that Winner had been arrested two days earlier."
So what about failing to cover up the tracking information on the document? "After an internal review, we acknowledged shortcomings in our handling of the document." But before you imagine for one second that The Intercept failed its source, it quickly notes: "However, it soon became clear that the government had at its disposal, and had aggressively used, multiple methods to quickly hunt down Winner."
See, there you go. Nothing to see here. Move along, move along. ®