An American woman is suing the US government's Homeland Security and Customs and Border Protection to get the data border agents copied from her phone.
Rejhane Lazoja said that when she landed at Newark Liberty International Airport on February 26 after a nine-hour transatlantic flight, she was subjected to a secondary screening by CBP agents who, over the course of the inspection, seized her iPhone 6S Plus.
While the phone was returned to Lazoja in July, her attorneys want to know what data was copied. Believing the search to have been illegal, she is now suing the CBP to have any copied data from the phone returned to her as personal property.
"The seizure, retention, and any sharing of her property without reasonable suspicion, probable cause, or a warrant have violated Ms Lazoja's rights under the Fourth Amendment of the US Constitution, and are at odds with recent Supreme Court holdings as well as District Court and Court of Appeals decisions scrutinizing CBP's practices of seizing digital storage devices without a warrant," the filing [PDF] reads.
The filing notes that Lazoja, who is a Muslim American citizen and wears a hijab, had communications on the phone with attorneys at the Council on American-Islamic Relations. Those conversations would be considered privileged communications. At the time she was stopped, the Trump administration was cracking down on Muslim people traveling into the States.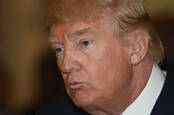 Grumpy Trump trumped, now he's got the hump: Muslim ban beaten back by appeals court
READ MORE
In addition to any copies made of the data, Lazoja is seeking an assurance from the CBP that all the data has been deleted from their systems and any third parties (such as other law enforcement agencies) that may have been given access to the data.
Lazoja's lawyers note that the recent court decisions in the Carpenter v United States and Riley v California cases support their argument that, in Lazoja's case, there was not adequate reason to search the phone's data and SIM card in the first place, let alone hold it for more than 150 days without turning it over to Lazoja and her attorneys.
"No such suspicion of ongoing or imminent criminal activity existed in the case of Ms. Lazoja giving rise to reasonable suspicion to search and seize her property," the filing reads.
"Consequently, neither was there probable cause, nor a warrant. Therefore, the search and seizure of Ms. Lazoja's property violated her rights under the Fourth Amendment."
The case, Lazoja v Nielsen, is currently being heard in a New Jersey US district court. ®
Similar topics