This article is more than 1 year old
Do I hear two million dollars? Apple-1 fossil goes on the block, cassettes included
1970s tech 'Picasso', two previous owners
One of only 50 working Apple-1 computers goes up for auction next month in Boston. The board is a later model than the one that fetched $815,000 in 2016.
That model was bought by Glamglow cosmetics founder Glenn Dellimore, who predicted it may have the value of a Picasso or Monet painting one day. Dellimore was prepared to pay up to $2m.
This Apple-1 was acquired from Adam Schoolsky, a friend of Apple founders Steve Jobs and Steve Wozniak, for $3,500 in 1994 by David Larson, a former professor at Virginia Tech. Larson collects old computer kit and is a curator at the Vintage Computing Museum, home to several Apple-1 computers.
It's "the later production shop-style of this Apple-1 [that] is indicated by discrete component dates which match other known Apple-1 boards of similar vintage, assembled and sold by Apple in the fall of 1976 and early 1977," we're told.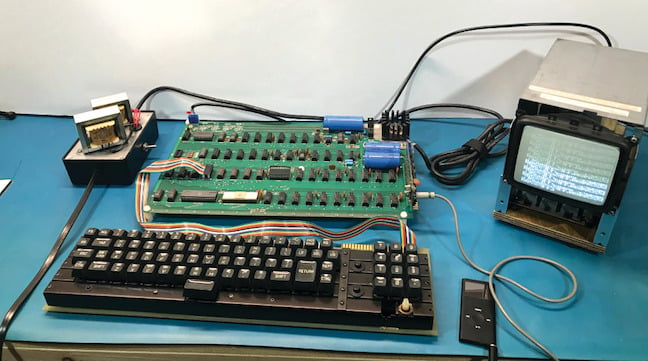 Click to enlarge
According to the catalogue, the item is in 8.5/10 condition and includes "the original Apple-1 board, original Apple Cassette Interface (ACI), original Apple-1 Operation Manual, two original Apple Cassette Interface manuals, a period surplus ASCII keyboard, a period Sanyo 4205 video monitor, a new period-style power supply with original Apple-1 power cable and connector, and period correct cassette interface cables".
Around 200 Apple-1 computers were produced, and Apple sold some 175. The Apple II was a different story: launched in June 1977, it went on to sell over six million units.
The auction is on 25 September and there's a glossy brochure in video form here. ®