Google's passive collection of personal data from Android and iOS has been monitored and measured in a significant academic study.
The report confirms that Google is no respecter of the Chrome browser's "incognito mode" aka "porn mode", collecting Chrome data to add to your personal profile, as we pointed out earlier this year.
It also reveals how phone users are being tracked without realising it. How so? It's here that the B2B parts of Google's vast data collection network – its publisher and advertiser products – kick into life as soon the user engages with a phone. These parts of Google receive personal data from an Android even when the phone is static and not being used.
The activity has come to light thanks to research (PDF) by computer science professor Douglas Schmidt of Vanderbilt University, conducted for the nonprofit trade association Digital Content Next. It's already been described by one privacy activist as "the most comprehensive report on Google's data collection practices so far".
Even if you don't use a consumer-facing Google service such as YouTube, many of the sites you visit on the web will be plugged into Google via the publisher and advertiser services: DoubleClick and Google Analytics.AMP mobile pages, hosted on Google, has also helped retrieve more valuable personal data.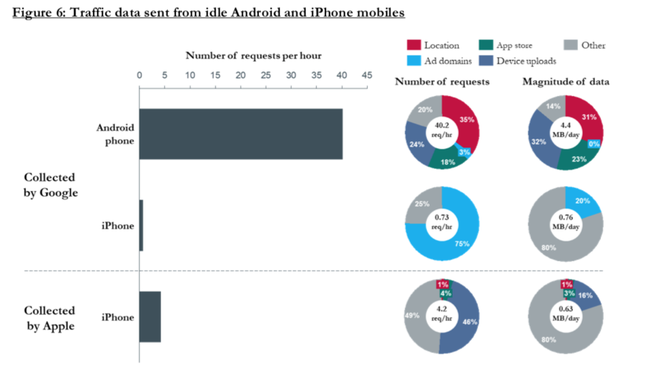 Idle traffic flows to Google. Click to enlarge
Google Analytics is used by more than three quarters of the top 100,000 most visited websites (including the one you're reading), while DoubleClick's third-party cookies are widely used to track users across the web. When Google acquired DoubleClick in 2007 it assured regulators it would never combine DoubleClick's cookies with its own. It abandoned that promise in 2016, attracting the (ongoing) attention of the European Commission.
So did Facebook, for similar reasons – a strategy that Facebook called "closing the loop".
The nature of some data may also surprise. App developers receive your age and gender whenever an app is launched, the study found.

Click to enlarge
Overall, the study discovered that Apple retrieves much less data than Google.
"The total number of calls to Apple servers from an iOS device was much lower, just 19 per cent the number of calls to Google servers from an Android device.
Moreover, there are no ad-related calls to Apple servers, which may stem from the fact that Apple's business model is not as dependent on advertising as Google's. Although Apple does obtain some user location data from iOS devices, the volume of data collected is much (16x) lower than what Google collects from Android," the study noted.
As we repeatedly point out, Apple makes its money from selling overpriced hardware, and has no need to track and personalise a virtual version of you, that advertisers can then access. Porn habits included.
We invited Google to comment on, and debunk the study if it so wished, but have not yet heard back at press time. ®
Similar topics