Windows 10 July update. Surface Pro 4. Working fondleslab. Pick two
Avoid OS build 17134.191 on tablets, it wrecked our gear, complain owners
Some Microsoft Surface Pro 4 owners claim Redmond's July 24 Windows 10 update broke their devices.
Folks posting to the software giant's community support forum describe various failures following the installation of OS Build 17134.191. Register readers have also been in touch to alert us to the gaffe.
A person posting under the handle "ElixirHunter" said the update disabled the touchscreen and pen interaction, slowed startup time, made the fan turn on more often, and prompted a firmware-related error message associated with the Surface Management Engine (ME).
Following the initial complaint, the thread ballooned with posts from other Surface users describing similar troubles. The thread has garnered 177 replies as of the time this story was filed, though not all represent separate reports of problems.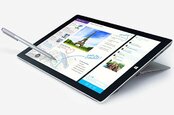 $14bn tax hit, Surface Pro screens keep dying – but it's not all good news at Microsoft
READ MORE
An individual posting under the name "Andy Yang3" reported the inability to update the Surface ME driver, long restart times, and touchscreen and pen problems.
"AlexNS21000" echoed other complaints by describing a non-working touchscreen, a SurfaceME driver with warning message, and startup lag.
Commonly cited symptoms include broken HID drivers, excessive fan usage, lack of touch screen and pen input, inability to shut down without holding down the power button, and inability to roll back the patch.
Two Reg readers asked us to look into the complaints, which have sprawled onto other forums.
In one message board, a Microsoft representative acknowledged the initial gripes, and said the reported issues are being actively investigated. But the company hasn't provided a fix.
Asked to comment, a Microsoft spokesperson declined to offer a statement in time for this article's publication. The Register will update this story if Redmond has something to say on the subject at a later time. ®