This article is more than 1 year old
GlobalFoundries scuttles 7nm chip plans claiming no demand
AMD promptly dumps it and hires TSMC for next-gen chips
GlobalFoundries is putting its pursuit of 7nm chips on hold indefinitely.
CEO Tom Caulfield said the chip fab will shift resources (including an R&D restructure) to the 14 and 12nm FinFET efforts where, he says, most of GlobalFoundries chip customers are focusing.
In announcing the move, Caulfield said companies seem to have little interest in the planned 7nm architecture. Rather, they are planning to stay with the current-gen architectures and squeeze performance out by other means.
"The vast majority of today's fabless customers are looking to get more value out of each technology generation to leverage the substantial investments required to design into each technology node," Caulfield claims.
"Essentially, these nodes are transitioning to design platforms serving multiple waves of applications, giving each node greater longevity."
In other words: 7nm is expensive, it's cheaper and easier to improve the performance and density of 12nm, and hardware accelerators and custom chips built by GlobalFoundries for its customers don't really need to go below 10nm.
AMD tells GlobalFoundries 'we'll TSMC ya later'
GlobalFoundries was at one point thought to be the fab of choice for AMD's planned move to 7nm for its next-gen CPU and GPU lines. Now, that honor will shift to TSMC, as AMD has announced it is to us the Taiwan-based chip giant to handle 7nm operations.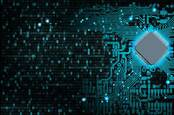 IBM GATE-CRASHES chip world, boldly exclaims: 'We've cracked the 7nm barrier'
READ MORE
The 7nm chips will be an important launch for AMD, as a successful rollout would give the company an advantage over Intel, which is struggling to get its next-gen 10nm line up and running.
AMD says the move will not affect its product roadmap, and the first 7nm GPUs are expected to leave the factory this fall, with CPUs set to arrive in 2019.
AMD is not fully cutting ties with its former subsidiary, either. GlobalFoundries will continue to make AMD's 14 and 12nm chips, including the Ryzen, Radeon, and Epyc lines that have propelled the company's market resurgence over the last year.
The GlobalFoundries move may not even be the biggest departure of the day for AMD.
Jim Anderson, general manager and senior VP of the computing and graphics business group, is leaving AMD to take on the the CEO role with edge compute specialist Lattice Semiconductor.
Anderson's duties will be assumed at least in part by Saeid Moshkelani, who has been promoted to senior VP and general manager of the client compute group. ®
PS: Our sister site The Next Platform has an analysis of the news, here.