A day after a US federal judge extended an injunction barring Cody Wilson and his company Defense Distributed from giving away 3D CAD files of gun designs on the internet, Wilson held a press conference in Austin, Texas, to declare that he has begun selling the files through his company's website.
"Early this morning we began selling the files for 3D printed guns and blueprints for the public," said Wilson. "We began fulfilling those as well nationwide."
The federal government allowed Wilson to distribute the files as a result of a policy change earlier this year, but that change was then challenged by eight states and the District of Columbia in July. On Monday, the judge hearing the states' claim extended a previously granted temporary injunction while the case proceeds.
The injunction places the federal government's policy change on hold, preserving for now the previous status quo that made distributing CAD files for 3D printing guns a violation of international munitions export rules.
In an email to The Register, Wilson said he was following the judge's ruling, not ignoring it.
At the press conference, he explained, "This judge's order stopping us from simply giving things away was only an authorization that we could sell it, that we could mail it, that we could email it, that we could provide it by secure transfer," he said. "I will be doing all those things now."
Wilson estimated about a few hundred people had purchased the files on Tuesday. Prior to the legal action against him, he said he had posted the files for a few days and they had been copied on mirror sites. Many of these gun designs were created by others and have been available for years. Injunctions turn out to be not very effective at keeping files off the internet.
"Everyone in America who wants these files will get them," said Wilson. "They're allowed to name their own price at our website. I'm happy now to become the iTunes of downloadable guns if I can't be the Napster."
For those who have forgotten Napster, it offered unauthorized music downloads for free, in violation of copyright law, before it was shut down.
Not backing down
Even so, Wilson said he intends to challenge the judge's order in the Ninth Circuit Court of Appeals.
Washington State Attorney General Bob Ferguson, one of the plaintiffs in the case, urged the federal government to uphold the law.
"Because of our lawsuit, it is once again illegal to post downloadable gun files to the internet," said Ferguson in an email to The Register. "I trust the federal government will hold Cody Wilson, a self-described 'crypto-anarchist,' accountable to that law. If they don't, President Trump will be responsible for anyone who is hurt or killed as a result of these weapons."
Wilson suggested the harm being done is to the First Amendment. "The only thing that's being stopped is your right to speak," he said.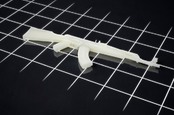 Judge bars distribution of 3D gun files... er, five years after they were slapped onto the web
READ MORE
EFF staff attorney Alex Moss, in an email to The Register, said as much about the injunction issued on Monday, calling it a deeply flawed decision. "The court completely sidestepped the critical First Amendment issues at stake in the case," she said.
Wilson expressed doubt that many people will go to the trouble of actually creating guns from downloaded models. "Way more people download it than ever do anything with it," he said. "I think most people at this point know it's not something you use."
Mike Ellenbogen, CEO of Evolv Technology, a physical security biz, told The Register in an email that more than one type of downloadable gun should be considered.
Ellenbogen agrees that 3D printed plastic guns are a novelty that are expensive and unlikely to be widely used. He's more concerned about downloadable files for CNC machines – which Defense Distributed sells – that can be used to print working AR-15 components, which can be assembled into a working semi-automatic assault rifle.
"These represent true threats to both individuals and crowds and are available without a background check or any other controls we've all agreed are reasonable methods for keeping guns out of the wrong hands," he said. ®