Huawei overtook Apple in Q2 as the world's number-two phone maker, according to fresh stats from Gartner.
Some analysts had recorded months in 2017 where Huawei took the silver, but for Gartner, April to June was the first full quarter in which the Shenzhen upstart outsold Apple globally.
The analyst house also confirmed that European sales were marginally down in the quarter, and down by double digits in the UK.
Huawei managed to displace smaller local rivals in emergent economies like India, Gartner's Anshul Gupta told us.
"In [an emerging] market growing at 4 to 5 per cent, Huawei saw 38 per cent growth," he noted. Much of this was down to channel investment and phones with attractive features for these markets, including the vigour of its Honor brand.
Gupta said he still sees room for Huawei to grow, particularly in Latin America.
Growth is coming in emerging markets where there's noticeable value from someone upgrading from a $200 or $300 smartphone. "The value benefit is significant. Going from a $200 to a $400 or even $600 phone that has much better features, the user is more appreciative of the upgrade."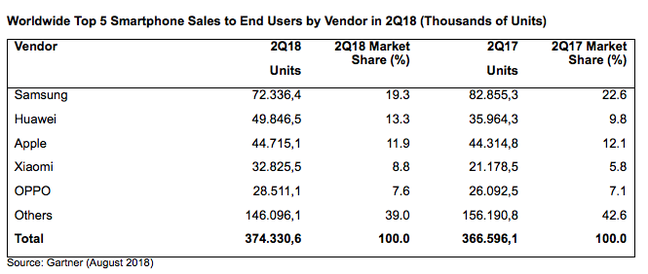 Worldwide phone sales have so far defied a widely predicted crash for 2018 – but it isn't a pretty picture for vendors.
Canalys recorded dramatic falls in sales of new devices in Q1, down 13 per cent in Western Europe, but even more so in the major economies: 23.2 per cent in France and 16.7 per cent in Germany. The UK saw a staggering 29.6 per cent year-on-year fall in Q1.
Gupta calculated that the UK fell 13 per cent year-on-year in Q2, with sales slightly down across Europe by some "4 to 5 per cent".
The declines in mature markets have been attributed to boredom with new features.
"At the top end, resistance is coming from users who need reasons to upgrade. Unfortunately, for the last couple of upgrades from the top vendors, the reasons to upgrade have been marginal," Gupta told us.
He didn't think the $1,000 (or £1,000) price tag remained a problem. "A thousand dollars was looking too high, but these [appeal to] the loyal fans, and for them it is still OK. It is not much of a concern now at the top end of the market." That certainly helped Apple, he noted, which saw flat unit sales but much creamier margins, with the average selling price rising.
Apple is expected to unveil a lower-cost iPhone among three new models next month.
Despite the rosy headlines, Apple needs the lift. Gupta observed that "although demand for the iPhone X exceeded demand for the iPhone 8 and 8 Plus in many markets, demand has started to slow down much earlier than in the past".
Overall, smartphone sales worldwide were 374.3 million in Q2, compared to 366.6 million a year ago. ®