Amid the inexorable flurry of storage industry releases this week, Datera announced increasing revenues and new hires, DriveScale attempted to crack Europe, Maxta touted its Hyperconverged (Un)Appliance, which looks pretty much like any old HCI, and Rubrik got chummy with Cisco bigwig John Chambers.
But let us begin at the start of the alphabet with A for Acronis...
Acronis claims $100m-plus ransomware damages stopped in 2018
Acronis has said its AI-based anti-ransomware tech – which is integrated into all of its backup solutions, including the new product – stopped more than 200,000 ransomware attacks on 150,000 customers last year. With current ransoms demanding an average of $522 per attack, the defence purportedly prevented more than $104m in damages.
Its Acronis True Image 2019 backup software includes the anti-ransomware tech, as well as using blockchain authentication for data integrity. It also has the ability to create an all-in-one recovery tool on an external hard drive, the Acronis Survival Kit.
A new WinPE builder streamlines media creation by detecting network adapters and configuring network settings so a user can recover their system through an Ethernet connection as well as a Wi-Fi network.
There is also a new file-to-cloud format which increases the reliability and performance of cloud backups for both Windows and Mac.
Datera growth
Datera said it experienced 240 per cent growth in revenues in the first half of 2018. It supplies a scale-out data services platform based on x86 servers, which can provision block or object storage to applications and supports containers.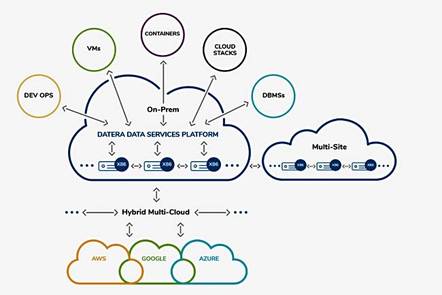 Datera technology diagram
The company said it had a 133 per cent increase in new customer acquisition in the first half. v3.2 of its software can deliver performance featuring 200 microseconds latency and 200,000 IOPS per server node.
It has hired:
Hal Woods, a former executive with Western Digital and Hewlett Packard Enterprise, as chief technology officer
Narasimha Valiveti, formerly of Dell EMC, as veep of product and engineering
Chris Cummings, previously of IBM Cleversafe and NetApp, as chief marketing officer
Guy Churchward - previously an exec at Dell EMC, NetApp and BEA Systems – has joined its board.
Churchward said:  "I'm excited to join the Board of Datera because the team is delivering on the real promise of the software-defined data center and has cracked the code on addressing the storage demands for tier 0/1 application workloads, which is no small feat."
DriveScale composes office in Europe
Henk Jan Spanjaard has been hired as veep and general manager of EMEA for DriveScale as it enters Europe.
DriveScale is a composable systems startup, competing with HPE's Synergy and systems from Liqid, Western Digital (OpenFlex) and, latterly, Dell EMC with its MX7000.
The idea is that composable systems make up virtual server systems from pools of compute, storage and networking resources, which makes better use of those resources than stranding some of them in physical servers, converged or HCI systems where they can be left unused.
Spanjaard's career features a series of similar posts with other US companies, such as NetApp.
Gene Banman, CEO of DriveScale, said: "We are seeing high demand from Europe and are excited to be opening our first European office. Henk Jan is a strong addition to our growing team. His proven track record leading sales and operations of high tech companies will help us build market awareness and scale across EMEA regions."
Maxta and its Hyperconverged (Un)Appliance
Maxta has introduced what it calls a "Hyperconverged (Un)Appliance", a pre-configured system of Red Hat Virtualization and Maxta Hyperconvergence software bundled together on Intel Data Center Blocks hardware.
It claimed this bundle provides all the advantages of appliance-based hyperconvergence without any of the disadvantages – no refresh tax, no upgrade tax, no VMware tax, and no proprietary virtualization. It is less expensive to procure, refresh and expand when compared to existing HCI appliances.
Calling it an (Un)Appliance is a marketing quirk – like all hyperconverged infrastructure, it collapses servers, storage, and networking into a single server tier that is used to run virtual machines and containers. Storage is configured automatically when VMs or containers are created.
There is no need to repurchase the software licence when refreshing hardware. The Hyperconverged (Un)Appliance also provides support for Red Hat Virtualization and Red Hat OpenShift on the same server platform.
Yoram Novick, Maxta founder and CEO, said: "These (Un)Appliances are also designed to enable organizations to support virtualization and containers with Kubernetes on the same platform so that customers do not have to deploy two separate storage infrastructures deploying containers."
Hyperconverged (Un)Appliances are available now through distributors and resellers worldwide. They will be demoed at Maxta's booth at VMworld #1518 in Las Vegas.
Rubrik boardroom trophy hunt
Data management startup Rubrik has appointed ex-Cisco boss John Chambers as a board advisor.
Chambers, now Chairman Emeritus of Cisco, and founder and CEO of JC2 Ventures, has also invested in Rubrik, adding to its near-$300m funding total.
Bipul Sinha, Rubrik co-founder and CEO, said: "John's ability to identify market transitions and capitalize on them to maximum effect has made him a go-to advisor for world leaders."
World leaders?
Chambers said: "When I talk to Rubrik CEO Bipul Sinha about his vision for growing and scaling Rubrik, I have no doubt that the company is on its way to becoming a multibillion dollar business."
Now that's some mutual back-patting.
Rubrik has also appointed Avon Puri, former VMware veep of business applications, as its chief information officer.
Veritas refreshes NetBackup
Veritas has unveiled NetBackup 8.1.2.
Through its new interface, backup admins and other authorised users can access and manage backup and recovery functions from their mobile device. Via a web service, users can identify issues, view capacity usage and take action to prevent interruptions.
This version includes:
Heightened security and data protection with role-based access granted to specific users
Intuitive for non-technical staff
Consistent navigation
Self-service model – users can determine the protection level and control asset recovery
Mobility and cloud asset protection on CloudPoint for quick recovery of data
Email notifications alert backup admins to possible job failures and incident tracking process
Usage reporting gives admins backup data sizes
NetBackup supports Hadoop, Nutanix, MySQL, PostgreSQL, MariaDB, SQLite, HBase and MongoDB. Veritas said users have instant access to these systems with the new interface and the ability to restore a single file without an agent.
The new version will be available globally from Veritas and its worldwide channel partners next month.
Shorts
In-memory supplier GridGain Systems has said its GridGain Apache Kafka Connector is now verified by Confluent. The connector provides native integration between GridGain and Kafka.
JetStream Software is announcing Cross-Cloud Data Protection software, featuring continuous data intercept through VMware vSphere IO Filters. Tom Critser, co-founder and CEO, said: "Data protection is the most common use case for enterprise hybrid cloud. So it is no surprise that the market is moving away from legacy snapshot-based replication architectures and adopting continuous replication methods for cloud-based data resiliency." JetStream will exhibit its software at VMworld 2018 in Las Vegas.
NGD Systems said it's delivering high-capacity, low-power NVMe SSDs with an on-board 64-bit, 4-core Arm processor that makes it possible to run a software-defined object storage application like Red Hat Ceph or Caringo Swarm directly on the drives. NGD claimed the drives can write and read directly to and from the network, do all data protection, authentication and authorisation, while bypassing the main CPU and memory.
SwiftStack said Premiere Digital Services, a global media processing and content distributor, is using SwiftStack software in a storage and compute workflow that combines on-premises and multi-cloud resources and capabilities. It's able to move less-demanding workloads off tier 1 storage, burst compute workloads to the public cloud as needed, and increase efficiency when working with remote locations.
Zerto commissioned IDC to do a report on IT Resilience and found 93 per cent of all businesses experienced tech-related disruption. Of these more 79 per cent lost money directly or by paying for additional recovery expertise. Just over half of respondents used cloud backup, and 44 per cent used cloud archive technology. Almost all (94 per cent) expect to spend more on IT resilience in the next two years. ®