VMworld US VMware's quest to automate admins out of a job continued at VMworld, with the company bedding down with Amazon to add a bit of its virtualisation sauce to the AWS Relational Database Service (RDS).
The tie-up is pitched at letting VMware customers pull Amazon's cloudy database admin capabilities into their on-premises and hybrid environments, and out to the cloud, under vCenter or vSphere management.
The offering would also make it easier to migrate from on-premises or hybrid operations to the AWS cloud in the future.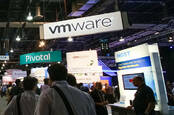 VMware AWS cloud goes down... under, launches in Asia-Pacific, touts devops-ish tools, etc
READ MORE
AWS is taking registrations for the preview soon, and operations planning to taste-test the service need to be able to dedicate a vSphere cluster to non-production use during the preview. The other dependencies are the ESXi hypervisor, and vCenter or vSphere.
Amazon said the aim is to automate provisioning, patching (both the database and the underlying operating system), backup, point-in-time restoration, storage, scaling, monitoring and failover.
The AWS infrastructure also handles disaster recovery, long-term archival, and burst read replicas.
VMware's announcement explained that database admin is one of the most fragile aspects of enterprise infrastructure, calling that "tedious, expensive, and risky – any mistake can lead to extended application downtime".
VMware also highlighted that creating new databases, even in VMware environments, demands the sysadmin run up an operating system, create a database image, and install the packages before they can set up the database.
Joining VMware's CEO Pat Gelsinger for his keynote, AWS boss Andy Jassy called this work the "administrative and operational muck of databases". ®
Similar topics