This article is more than 1 year old
SaaSy! Panzura emits global on-prem and public cloud file indexer
Another – yes, another – data management tool with ML lands on our desk
Cohesity has Helios, Rubrik has Polaris, Druva has DCP, and now Panzura has Vizion.ai, a SaaS-delivered file data management service.
File sync 'n' share player Panzura has developed the product to catalog and index a customer's entire global file estate, and then optimise its management. That is at least what it says on the tin.
It builds up a metadata index of on-premises files on filers including NetApp, Dell EMC (Isilon and VNX), Hitachi, Windows Server or any NFS or SMB compatible file shares.
The software supports AWS, Azure, Google Cloud Platform and IBM public clouds and incorporates a cloud-native, container-based deployment model with distributed caching and data reduction technology. Vizion.ai can be spun up in any cloud, any region, and on-premises as a managed service.
A Panzura blog claimed the SaaS provides a unified view of all unstructured enterprise data, which implies that non-file-accessed object storage is not included unless it has a file gateway.
Once the index exists then Vizion.ai does the search, analysis, recovery and control, including analysis of hot, warm and cold data based on access patterns. Search and analysis are powered by what Panzura calls a hyper-scale, multi-cloud data engine; a Kubernetes- orchestrated platform with an application layer.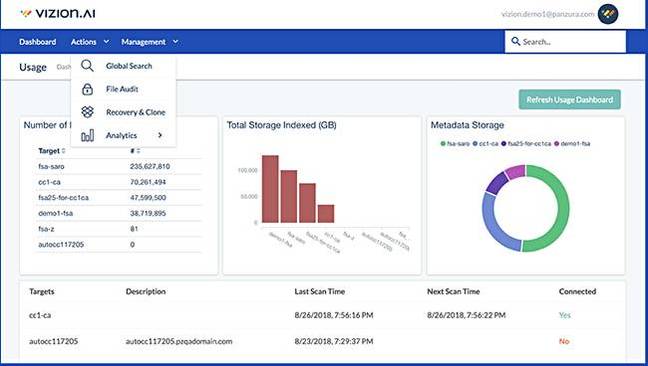 Panzura Vizion.ai screen shot.
The product has a scale-out distributed flash cache tier with global deduplication and tiering to object storage. And it integrates Elasticsearch, has machine learning for predictive analytics to help lower costs based on data access patterns and performance/cost analysis of different cloud storage locations.
Panzura said there are more than 64 different cloud object storage/SLA pricing permutations between Google, AWS and Azure when accounting for multiple tiers with multiple regional pricing variations. Vizion.ai offers the ability to select the favoured tier and move data sets to it.
The analytic tools include:
Storage Cost Optimizer – applies machine learning to determine the lowest cloud storage costs across multiple providers and allows movement of data between cloud storage tiers to optimize cost savings
Storage Usage Profiler – provides a heat map of what data's hot, warm and cold based on access
File Audit Report Filters – administrative tools for policy enforcement to help data governance
Searches can be run on filename, date, owner, groups and other file metadata items. An audit data search facility enables forensic discovery to track user activity across multiple files, folders and clouds. Content search is coming as are user-definable policies to create alerts.
There are plug-ins for Panzura and third-party data applications, and an API for third party developers to integrate Vizion.ai into their wares. When integrated with Panzura's Freedom NAS, users have the ability to restore or clone data sets from previous snapshots or backup sets to original or alternative locations.
Examples are cloning a database backup to a DevOps user or restoring a VMware backup set from a Los Angeles data centre to the eastern region of VMware Cloud in AWS.
+Comment
Point-product file data managers are finding their customers are heading towards the same place; one where files are stored in multiple on-premises and public cloud silos. Managing this disparate collection is difficult, especially with regard to regulatory compliance, and optimising file storage accessibility and costs. ®