This article is more than 1 year old
Google sets Kubernetes free with $9m in its pocket for expenses
K8s becomes captain of its own fate, in Google Cloud cabin
Now that the Google-born open-source Kubernetes project has come of age, its proud corporate parent is setting it free on the path to maturity and independence with sizable wad of cash to get it started in its new home.
The Cloud Native Computing Foundation, which oversees various open source projects like Kubernetes and Prometheus, on Wednesday said Google has begun shifting the ownership of Kubernetes cloud resources – the Google Cloud Platform accounts – to members of the CNCF community.
With the transfer of power comes a grant of $9m in credits over three years, redeemable for Google Cloud Platform services. CNCF expects to use the cloud money to support the project's continuous integration and continuous delivery (CI/CD) build pipelines, to host its container image repository, and to run scalability tests.
These tests can require upwards of 150,000 containers across 5,000 virtual machines, said William Denniss, Google Kubernetes Engine product manager, in a blog post. So Google's pre-payment is sure to be appreciated.
Kubernetes, or K8s among friends, was released in 2014 and Google now feels it's time to distance itself a bit further from a project it has managed already to keep at arm's length. That separation over the past few years has been enough to convince the container-oriented community – a group that includes Google competitors – to rally around the project and make it the de-facto standard for orchestrating software containers.
In a statement, Sarah Novotny, head of open source strategy for Google Cloud, said Google believes "that for an open source project to truly thrive, all aspects of a mature project should be maintained by the people developing it. In passing the baton of operational responsibilities to Kubernetes contributors with the stewardship of the CNCF, we look forward to seeing how the project continues to evolve and experience breakneck adoption."
The CNCF accepted Google's gift with gratitude. Executive director Dan Kohn called it "an important step in empowering the Kubernetes community to take ownership of its management and sustainability."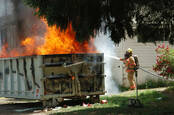 Microsoft's Azure Kubernetes Service mucked my cluster!
READ MORE
CNCF has reason to be magnanimous beyond the Chocolate Factory prize money – cloud-oriented enterprise software is all the rage. According to CNCF stats published on Wednesday, production usage of CNCF projects has increased more than 200 per cent on average since December 2017 and evaluation – companies testing said code – has risen 372 per cent.
Among CNCF survey respondents – 2,400 IT-types mostly from the US and Europe – 40 per cent of those from enterprise companies (5,000+ employees) report running Kubernetes in production. Over the whole set of people answering the survey, 58 per cent said they are using Kubernetes in production, with 42 per cent considering it for future deployment.
The top three benefits of cloud native tech, according to those surveyed, are speed, scalability and cloud portability.
Google's cloud credit works against portability. But the CNCF appears to be eager to see the newly emancipated K8s expand its horizons.
In an email to The Register, Chris Aniszczyk, COO of CNCF, said "We are already running Kubernetes and other CNCF projects tests on a variety of public/private clouds via our Cross-cloud CI effort."
Pointing to cloud biz Packet, which already works with the CNCF to provide bare metal services for projects, Kohn added, "Any other cloud provider is welcome to get engaged with SIG-testing and help port some of the test development over to their platforms." ®