This article is more than 1 year old
HTC U12 Life: Notchless, reasonably priced and proper buttons? Oh joy
Google's ex makes another play at the midrange
Hands On Ailing HTC has given the midrange market a kick with U12 Life, announced today. It's a far more impressive offering than its predecessor, the HTC U11 Life.
While Motorola rules the sub-£200 market, and Huawei the £300+ mid market, things are dicier in between. Ignore the retail pricing of £299. If you're looking for a SIM-free phone, the trivial 30-second task of joining the "HTC Club" membership programme knocks 10 per cent off the price, bringing it down to £269.10. At that price it's a contender.
HTC has made all the right design decisions here. This unit is larger (6-inch) than its predecessor, providing room for a much bigger (around 40 per cent) battery. HTC reinstates the 3.5mm audio jack, and adds stereo speakers. Rather than the spartan Android One SKU on most variants of the U11 Life, the U12 Life presents you with a cut-down HTC Sense skin on top of Android 8.1. And HTC sounds quite militant about shunning the Notch.
"All our content is still rectangular," HTC's Fabian Nappenbach told us. So there's no Notch. There's no Edge Squeeze feature. And it's merely "splash resistant", rather than leaping in the air for joy waving its IP67 certificate.
Performance seemed snappy on the prototype we tried, with the camera lag of the U11 Life banished (not final production software, but still impressive). The Snapdragon 660 is considerably more capable than the U11 Life's Snapdragon 636, while retaining its meagre power consumption. HTC claims it should be good for 12 hours of LTE browsing, or 13 hours of continuous video.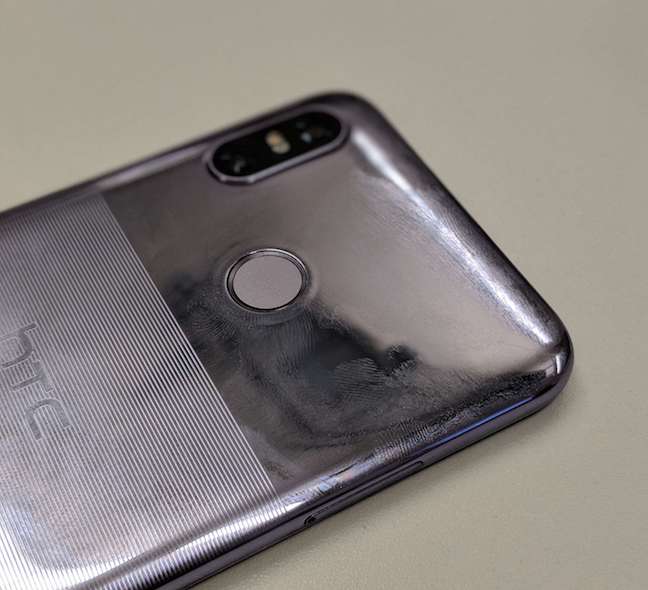 My experience of the same chip in last year's BlackBerry was that it was fine to start off with but slowed down under strain. It certainly benefited from more RAM. Here, HTC is focusing on the single 4GB/64GB SKU for most markets – and that has a hybrid second slot for either microSD cards, or a second SIM card.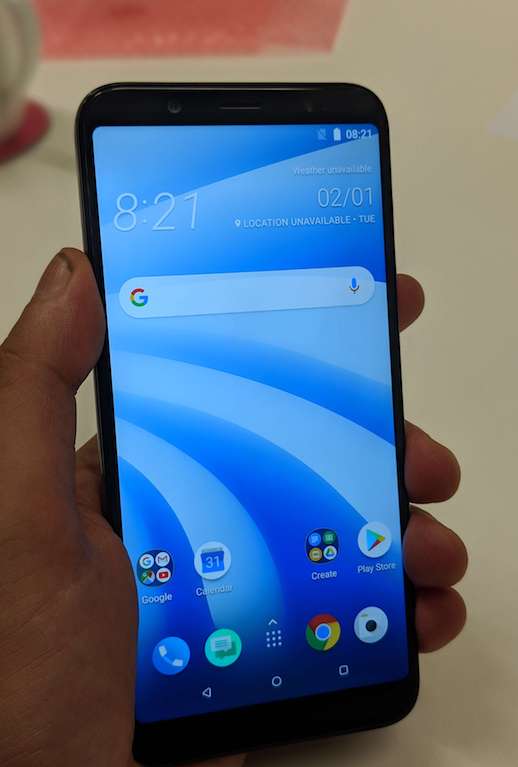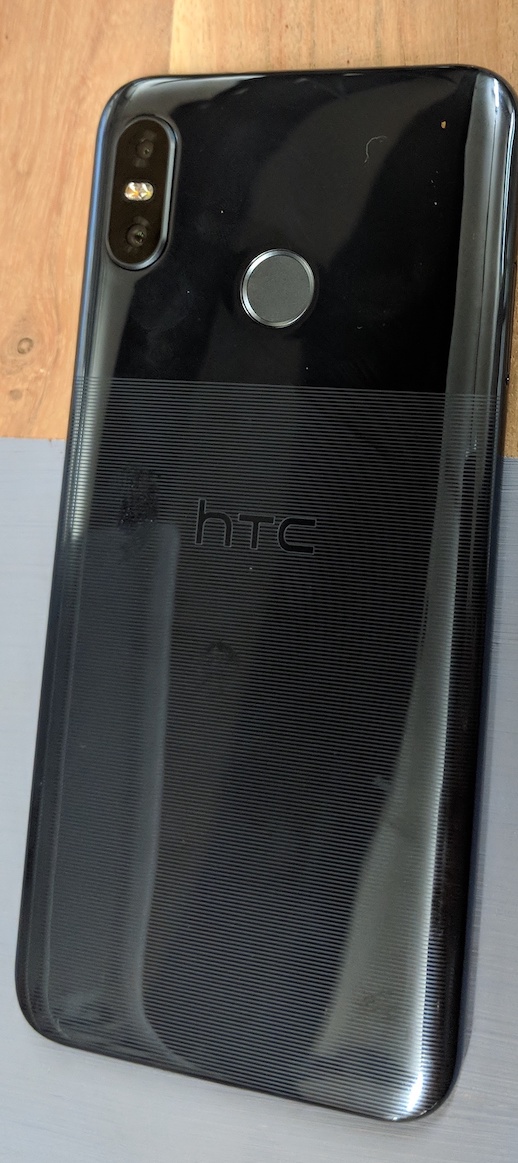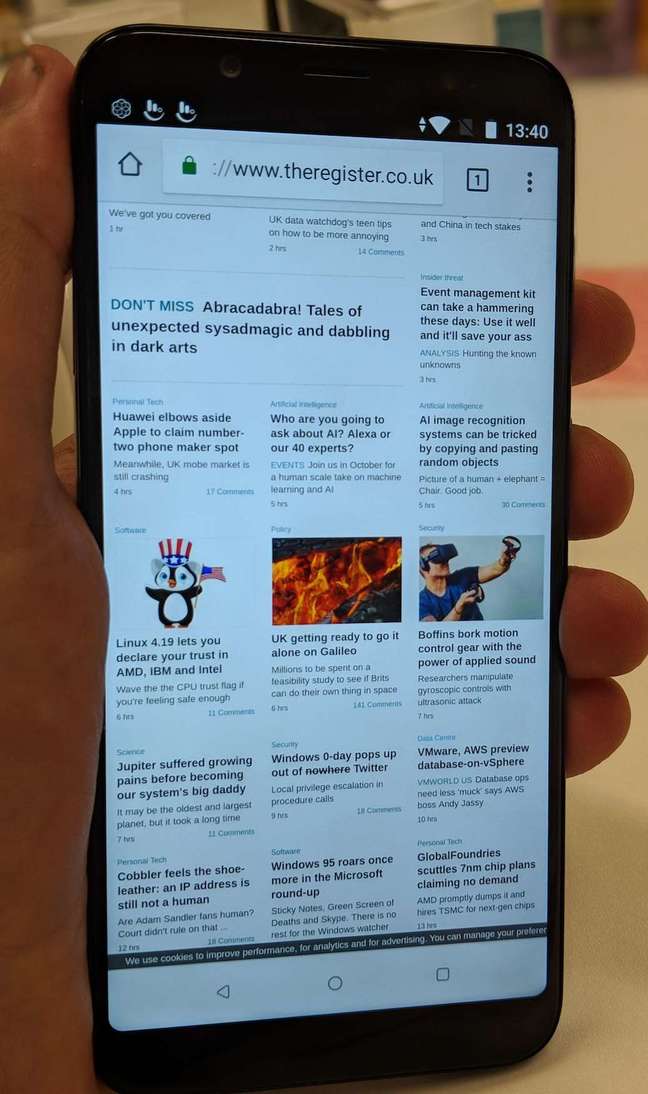 When HTC was playing footsie with Google, which is where many engineers ended up after a deal last year, the Life was the first name-brand Android One device to reach the West. Here HTC has gone for the HTC Sense skin, but taken out some unloved cruft. Farewell to the awful News Republic, then – we won't miss you one bit. Shiny-new-thing bloggers rarely have anything nice to say about the ageing Sense suite, but the apps offer more than Google's basics.
Oh, and the buttons are real mechanical switches. The Edge Sense squeeze feature was thrown overboard because it would have made it more expensive, Nappenbach explained.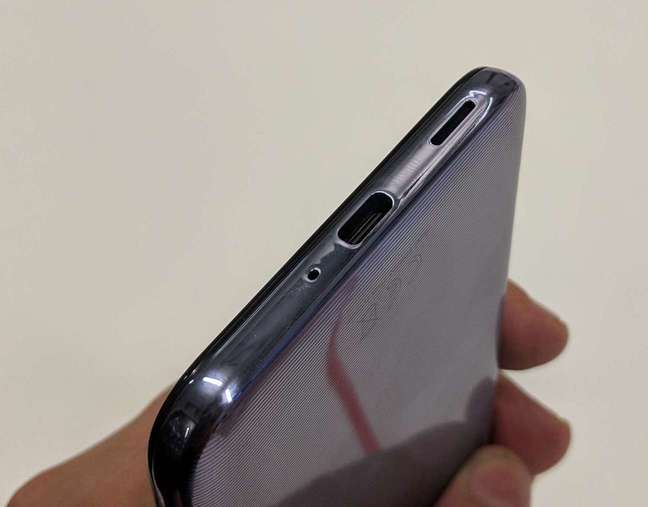 The glass back has a grooved area, "Dual Finish" in HTC marketing speak, which makes it look a lot classier and easier to grip. This region doesn't reach all the way to the top, which means the area around the fingerprint sensor gets smudged quickly, as you can see.
Why would HTC want to remain in such an unforgiving, cut-throat market? Well, as I suggested at the top of the page, it isn't easy to make a choice in the £200s. Motorola sells a "premium" version of its hugely popular (deservedly so) G6, but Huawei's play is the now-ageing Honor 7x. Samsung will thrust its A5 at you – but that's another 2017 model, and its 3GB/32GB board and 3,000mAh looks a bit mean compared to this.
HTC began to crash because despite garnering glowing reviews for its 2013 and 2014 flagships, it neglected its midrange. Very late in the day, it returns to fray. What if, eh? ®