This article is more than 1 year old
VMware 'pressured' hotel to shut down tech event close to VMworld, IGEL sues resort giant
Mandalay Bay, restaurant hit with lawsuit after Las Vegas gathering axed mid-bite
VMware has been accused of slyly shutting down and evicting a partner's four-day tech event running this week alongside the VMworld US conference in Las Vegas.
Just as IT industry bods were biting into their lunch at the Border Grill restaurant in the Mandalay Bay hotel during the second day (27 August) of enterprise software developer IGEL's four-day Disrupt event, its organizers were allegedly told by the eatery's bosses: the show's over.
Immediately after the VIP luncheon was finished, staff at Border Grill – which was paid to host the Disrupt forum – pulled down IGEL's signs and branding from the walls and windows, dumped it in the trash, and dismantled the tech biz's show equipment, thus permanently ending proceedings.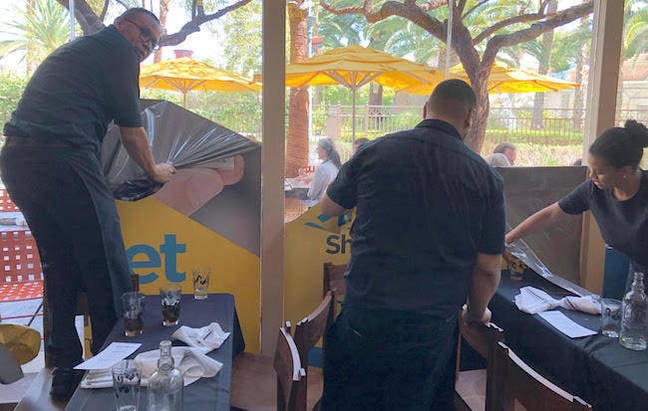 Tech teardown ... Border Grill staff remove IGEL's branding from the walls of the restaurant the biz booked to host its event
That's according to a lawsuit [PDF] filed on Tuesday, and seen by The Register on Wednesday, by IGEL in a district court in Clark County, Nevada. The suit accuses the Mexican restaurant, its owners Mundo Management Group, plus the Mandalay Bay hotel, and its owner MGM Resorts, of breach of conduct by axing the Disrupt forum for no reason and with little warning.
Beef
Although VMware was not named in the lawsuit, IGEL North America boss Jed Ayres told The Register he believes his event was canceled under "pressure" from the virtualization giant, which was holding its four-day VMworld conference a few hundred feet away in the Mandalay Bay. According to Ayres, VMware executives were told in meetings six weeks ago that IGEL was running an IT event alongside VMworld in the hotel, heard no objections, and staff at VMware and its parent Dell were among the 2,000-odd people registered to attend Disrupt, we're told.
IGEL – an endpoint management software biz headquartered in Germany – is a VMware partner, its software integrates with VMware's desktop virtualization tech, and it has previously exhibited at VMworld. The Disrupt forum is a modest affair compared to the sprawling VMworld that exudes into every corner of the Mandalay Bay convention center.
Ayres said he suspects the abrupt cancellation of Disrupt is linked to the fact that IGEL is becoming a headache for Dell. For instance, according to analysts at IDC, in Western Europe, IGEL is the third largest thin-client vendor, behind Dell and HP Inc, growing annual sales eight per cent year-on-year in 2017 as the region as a whole shrank eight per cent in that market.
Running Disrupt right next to VMworld was perhaps a step too far for the Dell-EMC corporation. According to the lawsuit, Border Grill bosses said they would lose their lease within the Mandalay Bay unless they followed MGM Resorts' orders and cancelled the IGEL event. The software developer was also asked to stop tweeting about the forum, it is claimed.
"VMware wanted a no-fly zone around VMworld," Ayres told us. "I don't think anyone considered the totality of evicting us – we had eight different contracts in place. Instead, they wanted to make an example out of us, and send a message that they can do whatever they want. They are bullies.
"This is a tragic set of circumstances because we still see VMware as a super important partner, and I don't want to jeopardize our relationship with them. An ecosystem is needed, though."
Ayres said that when companies sign up for a booth at VMworld, the contract effectively gives VMware a lot of power over what the exhibitors can and can't do around the conference. For example, an exhibitor wouldn't be allowed to heavily advertise on billboards in the area in case it undermined VMware's ownership of the show.
Since IGEL didn't book a booth this year, and decided to hold its own event close by, VMware had to – in Ayres' view – go to MGM Resorts to disrupt Disrupt. This is the same MGM that is suing 1,000 victims of last October's Mandalay Bay mass shooting spree, he noted.
Timeline
Here's how it all went down, as alleged by IGEL in its court paperwork:
Sometime ago, IGEL booked the large Border Grill to host its Disrupt event, which was to run from Sunday, August 26 to Wednesday, August 29 – the same time VMworld was to be held close by within the Mandalay Bay. IGEL paid the restaurant a $29,975 deposit, which was supposed to be given back if the booking fell through. Ayres told us on Wednesday, two days after the plug was pulled, the deposit still hadn't been refunded. In all, IGEL spent at least $300,000 on preparing for the event, from advertising to hiring audio and video equipment.

What the front of the restaurant should have looked like ... Click to enlarge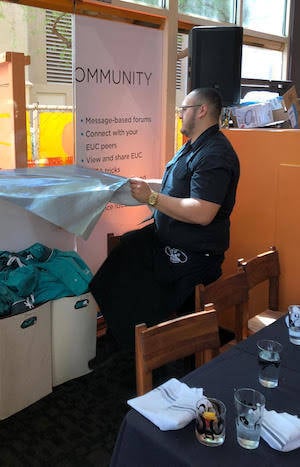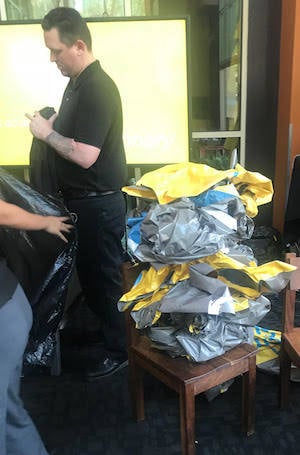 Brand-ripped ... Signs removed
On the Saturday, IGEL started setting up by placing its banners and signage in and around the Border Grill. During this time, the restaurant's management, "at the direction and behest of MGM and others," according to the lawsuit, told IGEL that what had been booked and agreed to was no longer possible: for example, a stage right outside the eatery had to be moved inside, coffee cups and t-shirts with IGEL's logos on them had to be removed from sight, and the large temporary hoardings on the front of the restaurant with the forum's branding had to come down. The tech biz said it acquiesced to keep the event alive.
The next day, the restaurant's staff moved more of Disrupt's equipment from the front of the joint to a downstairs inside area, and took down other stuff. The biz's technical bootcamp, and evening happy hour, still took place within the Border Grill, which was paid another $30,000 for food, drink, and other costs. MGM was also paid $5,000 for providing Wi-Fi.
On the Monday morning, theatre presentations were held as expected. Just before lunch, with about 40 VIPs in attendance, IGEL staff were told by Border Grill workers, "at the direction of MGM," the lawsuit claims, to stop tweeting, Facebooking or otherwise promoting the forum on social media.
Then the whole thing was abruptly ended, and everyone was told to put down their food and leave immediately, the lawsuit paperwork alleged:
Half-way through the VIP Partner Lunch, Border Grill advised IGEL that it could not hold any more of its planned events at Border Grill. Even more egregious, Border Grill requested that IGEL end the lunch immediately, despite the attendance of nearly 40 VIP IGEL Partners in the middle of their lunches and an active presentation.
Separately, Ayres told us he refused to end the gathering on the spot, and insisted people at least finish their tacos and enchiladas. The lawsuit's allegations continued:
At the conclusion of the lunch, Defendants informed IGEL they were being evicted from the Border Grill effective immediately and that MGM security was onsite to ensure IGEL quickly complied with this inexplicable demand. Without IGEL's authorization, Border Grill employees proceeded to aggressively strip signage from the windows and doors of contracted rooms and throw it in the trash.
Border Grill employees engaged in this improper conduct in front of VIP IGEL Partners attending the VIP Partner Lunch at the Border Grill.
Under duress and supervision of MGM security, Defendants instructed IGEL to immediately remove all property from the premises, which included the video studio, dozens of boxes of giveaways, and other IT equipment.
With hundreds of preregistered customers and potential business partners due to arrive at the Border Grill for IGEL events on Monday afternoon and evening, these interested parties were suddenly left with no IGEL event to attend, causing great distress to IGEL and its customers and partners.
Border Grill managers and officers confirmed to IGEL that they were being forced to take this extreme and unprecedented position at the direction of MGM, with the threat of "losing their lease" after 13 years if they did not comply with MGM's demand.
This cancellation meant that the theatre briefings, interviews, and other functions scheduled for the rest of the week were scrapped – events that attendees had registered for and were expecting to take place.
A pool party booked on Wednesday at the Mandalay Bay's Moorea Pavilion Cabanas was also canned, and hosted elsewhere. Entry to this party depended upon taking part in a product demo at Disrupt – and given the Monday afternoon and Tuesday sessions were axed, few people were eligible to turn up anyway.
IGEL, in its lawsuit, demanded $3m to compensate for lost business, plus at least $360,000 in costs.
A spokesperson for MGM Resorts told us: "We do not have any comment at this time." Spokespeople for Vmware and Border Grill did not offer any comment on the allegations by the time of publication. ®