This article is more than 1 year old
Golden State passes gold-standard net neutrality bill by 58-17
SB 822, passed by Senate and Assembly, now has to be passed by, er, the Senate again
Updated California's net neutrality bill SB822 has cleared another hurdle on its way to becoming a state law.
The bill received a 58-17 majority vote from the state assembly following a heated debate and amendment process. Because some provisions of the bill were changed by the Assembly, it will have to once again be voted on by the state Senate before it can head to the desk of Governor Jerry Brown.
Backers of the bill hailed the vote as a major milestone in the effort to get net neutrality legislation on the books in California.
"California just took a huge step toward restoring protections that prevent companies like AT&T and Comcast from screwing us all over more than they already do. This historic Assembly vote is a testament to the power of the internet," said Evan Greer, deputy director of advocacy group Fight for the Future.
"Big ISPs spent millions on campaign contributions, lobbyists, and dark ads on social networks, but in the end it was no match for the passion and dedication of net neutrality supporters using the Internet to sound the alarm and mobilize."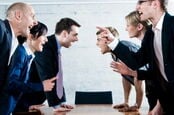 Net neutrality haters spam Californians with annoying robocalls
READ MORE
The passage of the bill comes after a bitter fight in Sacramento between tech companies and digital rights groups who had backed the bill and telcos and conservatives who saw the bill as an unnecessary government effort to control the internet.
The battle included debate over the proposed amendments to the bill and worries that tacked-on provisions could end up creating legislation that falls well short of its original intent.
After the overwhelming Yes vote in the Assembly, however, groups that had championed the measure seemed more than happy with what eventually ended up getting passed.
"We're in the home stretch here. California could pass a gold standard net neutrality bill, providing a template for states going forward," said EFF policy analyst Katharine Trendacosta.
"California can prove that ISP money can't defeat real people's voices." ®
Updated to add
The California Senate, moving surprisingly quickly, has also approved the new legislation with a vote of 23-11. The bill will now be passed to Governor Jerry Brown for his signature.
"Governor Jerry Brown should sign this bill ASAP," said Greer.
"Other states should then follow California's lead, and Congress should pass the Congressional Review Act (CRA) resolution to restore common sense protections that never should have been repealed in the first place. Despite Ajit Pai's best efforts to hand control over the open internet to giant telecoms, net neutrality is not dead. It's coming back with a vengeance."