IFA Microsoft's long journey away from Intel reached escape velocity this week, as the first traditional laptop machine with Qualcomm's Arm processor was revealed by Lenovo, in the shape of the Yoga C630 WOS.
"WOS" stands for "Windows on Snapdragon", how Qualcomm prefers to call "Windows on Arm", and since it's Qualcomm Inside, not Intel Inside, it gets to call the shots.
This is the second "always connected" PC from Lenovo to run a Qualcomm chip, but the first to run the Snapdragon 850 processor. Officially announced last year, the Microsoft-Qualcomm alliance Always Connected was created to produce chips with support for legacy x86 instructions into an Arm processor, which should result in full blown Windows running on devices with greater power efficiency than Intel could manage.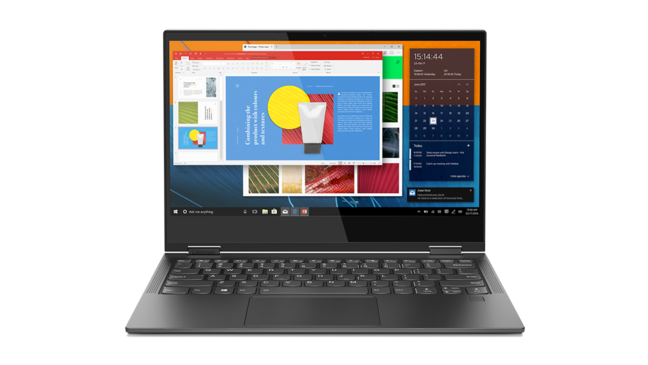 Click to enlarge
How much more efficiency? "25+ hours of local video playback on a single charge," says Qualcomm. The proof's in the pudding, though: once the x86 instructions are tapped, and the Yoga is put through a real-life work day, we'll have a better idea.
This particular Yoga is a smart but generic 1.2kg machine with 13.3-inch touchscreen convertible display. Naturally, there's an LTE modem built in: no more hunting around for dodgy hotspots, Lenovo stresses. The Snapdragon 850 (2.90Ghz) is supported by 4GB of RAM.
Many more devices are to come, with Lenovo bullish about the prospects of customers running legacy software on cheaper or more mobile gear. And that explains the pricing. At €950, or around £850 in the UK, this isn't cheap.
Lenovo's Windows on Snapdragon is fairly expensive, $850 I think, company says people will pay for 25 hr battery life. However I think it is over-priced.

— Tim Anderson (@timanderson) August 30, 2018
But Lenovo reckons those enterprise users will pay for that longer battery life. Expect lower cost models to come.
Over two decades Intel has sought to move away from x86 and nurture low-power architectures, well ahead of the big shift to mobile computing. Despite some fine assets, particularly StrongARM, these attempts never achieved critical mass.
Post-defenestration Microsoft: It's the APIs, stupid. And Metro
READ MORE
And for its part Microsoft was always keen to hedge its bets. Like most in the industry, it expected Intel's CISC to wither and die, and so promoted Windows NT heavily as a highly portable, RISC-friendly platform.
However, Intel proved more durable than anyone expected. Microsoft's last attempt to put Windows on Arm, post-iPad, acknowledged that most legacy applications were so deeply reliant on x86 quirks that only a subset could run, and customers didn't want a subset. Windows RT was short-lived.
Now all Intel can do is watch from the sidelines. ®