This article is more than 1 year old
Huawei first to preview its 7nm phone SoC – the HiSilicon Kirin 980
Featuring the world's fastest modem
IFA Four major companies design the key chips for smartphones, and Huawei's HiSilicon became the first to announce its 7nm designs today at the giant IFA show in Berlin.
The HiSilicon Kirin 980 series is the first to disclose details of chips based on the new production techniques – although you can expect Apple to follow in a few days. Huawei's Benjamin Wang said it was the result of three years work, and crams 6.9 billion transistors onto the die.
The 980 incorporates two "Big" A76 2.6Ghz cores, two "Middle" A76 1.92Ghz cores, and four "Little" A55 cores running at 1.7Ghz. The small cores are sufficient for tasks like music playback, which requires only one Little core, or navigation, which can be assigned three. The 980 also incorporates what is the world's fastest modem with 4x4 MIMO and 2x2 offering 1.4Gb/s speeds – in theory. That should cope with gigabit LTE and the first bout of 5G-branded hardware.
The unit also incorporates two neural network processing (NPU) cores and Arm's Mali G76 GPU.
Power efficiency gains are the main payback of the investment in 7nm. Huawei said it's around 58 per cent more efficient, based on its own and TMSC's numbers. But a smaller line size means there's room for more transistors, too. Huawei claimed the dual Image Signal Processor gave both power and efficiency benefits: 46 per cent faster, but using 23 per cent less power when recording.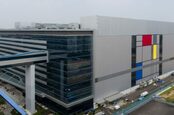 Samsung ready to fling Exynos at anyone who wants a phone chip
READ MORE
The Wi-Fi processing units also get an upgrade: the Hi1103 units supporting 1,832Mb/s, compared to 866Mb/s on Qualcomm's current flagship Snapdragon 845.
The combination of the faster NPU and better DSP means Huawei will be able to play the "Not Hot Dog" AI image recognition trick on real-time video.
No phone has yet to be announced with the 980, but if previous years are anything to go by, it shows up first in Huawei's Mate range in late autumn.
Samsung is said to be stepping up its licensing efforts for its own Exynos SoCs, having settled its differences with Qualcomm. The last phone chip maker is Mediatek, which focuses on lower-cost phones for emerging markets. ®