This article is more than 1 year old
Surprise: Sage Group head honcho has left the building
CFO asked to take the wheel
Sage Group chief exec Stephen Kelly has unexpectedly stepped down from his director and CEO roles.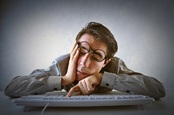 Boring as she goes at Sage? Oh no, no, no! Shares slide as sales slip below forecasts
READ MORE
Kelly, who joined on a £790k salary, departs several months after the software company's half-year financial results came in lower than hoped for, prompting a share price tumble in April, though the accounting, payroll and HR software slinger later recovered.
In addition to the giant paycheque, Kelly was promised a "one-off" stock award worth £987,500 which would vest over six years when he joined. His early departure comes before they were due to fully mature (PDF).
Kelly's year-long notice period kicks in immediately and he's to spend the first nine months on gardening leave, the company said. The former civil servant will be wheeling away plenty of shares to the shed, however, outlined in a handy table here. He'll need to "remain available" to the business until May 31 next year.
"I joined a fragmented organisation with minimal presence in the cloud," said Kelly in a canned statement along with the usual "nice to have worked with you" platitudes. He continued: "The major cultural transformation has created Sage Business Cloud which has now grown to £386m of annualised recurring revenue (ARR) from a standing start."
Sage itself said in a statement: "The Board has today appointed Steve Hare, Chief Financial Officer, to the additional post of Chief Operating Officer on an interim basis. In his position as CFO and interim COO, Steve Hare will have full executive authority to run the business until the appointment of the new CEO."
It also reassured the world that it is "focused on completing its evolution to a SaaS business".
Stephen Kelly joined Sage in 2014, having been COO of the Cabinet Office. As Francis "Mad Frankie" Maude's right-hand man, Kelly was instrumental in the rise of the Government Digital Service, architects of the one-size-mangles-all GOV.UK uberpresence.
Prior to Sage he was also one of the driving brains behind the government's G-Cloud catalogue of approved government cloud suppliers, a well-intentioned policy that has nonetheless failed to thwart the march of millions of pounds into the coffers of large multinationals while local providers go to the wall.
As we reported in 2014 when he joined Sage: "The question for Kelly is whether he can integrate Sage's product operations, siloed by geography thanks to the company's various merges and purchases."
Sage's share price was 591p at the time of writing, down 8.5 per cent on yesterday's closing price of 646p. The last time Sage's shares dipped below 600p was April this year.
Kelly's departure from Micro Focus, a company he was previously chief executive of until 2009, prompted a similar share price slump.
We have asked Sage for comment. ®