This article is more than 1 year old
The week in storage, lovingly crafted by our machine-learning algos. loljk, we had to write this
One day, one day...
El Reg has once again curated a selection of storage news tidbits for all you thought leaders out there. Surely there's some sort of machine learning algorithm that can find the stuff and write it by now, hm?
Anyway, grab a cup of your favourite caffeinated beverage and absorb this perfectly formed and organic summary of the week in storage.
High Nunes at Datrium
Craig Nunes, Datrium CMO, has resigned. This followed the arrival of new CEO Tim Page, which also saw sales head Jim Grua leave.
Datrium's marketing message has recently changed from being an above-average HCI product to one of replacing ageing VxBlock converged systems.
Infinite IO bags $10.3m funding
Infinite IO, a startup building a metadata accelerator for NAS arrays, has received $10.3m B-round funding.
It brings total funding to $13.7m for the 2012-founded firm led by Mark Cree.
The firm said its network switch-like tech responds to metadata requests faster than the most advanced all-flash storage arrays, significantly increasing the performance of existing storage systems. It would have to, however, otherwise there is no need for its product in an all-flash NAS world.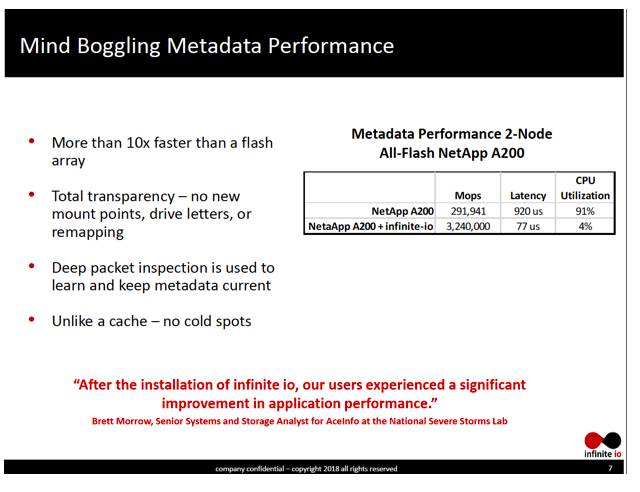 Inifnite IO performance with NetApp A200 all-flash array
When metadata indicates files are no longer being accessed, they are migrated to low-cost cloud storage, without sacrificing security or availability.
That makes its technology more of a file storage controller with HSM pretensions and an overlap with Komprise.
Stuart Larkins, a partner at Chicago Ventures, referred to this in a canned quote: "Infinite IO's metadata-driven approach to data management addresses a large market need by solving the data management problem without impacting storage performance – all other approaches force the customer to compromise performance when managing data at scale and usually involve other drawbacks like capacity-based pricing."
The B-round was led by former Motorola CEO and Cleversafe Chairman Chris Galvin, and his son David, of Three Fish Capital and formerly IBM. It also includes capital from Chicago Ventures, John Anderson, Dougherty and Company, Equus Holdings, and PV Ventures.
Three members of the storage great and good also put in cash:
Dean Drako, founder and former CEO of Barracuda Networks and founder and current CEO of Eagle Eye
Brett Hurt, co-founder and former CEO of Bazaarvoice and current co-founder and CEO of data.world
Bill Miller, co-founder and former CTO of Storage Networks and current CEO of X-IO-technologies
The new money will be used to scale operations globally and help the company grow faster.
Pivot3 HCI + Lenovo servers = smart city security
Case Study: Pivot3 HCI software bundled with Lenovo servers is being pitched at the city surveillance market and called an edge computing system.
The two told us that customers, such as Colombia's City of Bogotá, set it up with more than 3,000 cameras.
The first phase involved around 1,000 cameras and a central control centre, serving at least four visualisation locations operated by the police. A second phase involved 18 Bogotá suburban boroughs and another 2,000 cameras; 3,000 cameras overall.
Rafael Padilla, systems integrator, City of Bogotá Safe City Project, said: "With this new scalable edge computing solution, the city's security team can view any camera, regardless of brand across the city from a single location, which will greatly simplify operations."
Deployment: The deployment used Lenovo SystemX x3650 2U servers configured with 31 Pivot3 Watch nodes each with 120TB of raw capacity. It's located in the City of Bogotá's primary data centre. Ironically then, we can hardly call this an IoT edge system.
The IP-based cameras are spread across the city and linked to a central location through ETB (the city telephone company) via a fibre-optic network. The video data captured from the cameras is transmitted to the central data centre, where it is directly ingested into the Pivot3 HCI cluster.
Each HCI cluster node has two 10GbitE ports dedicated to camera traffic. Pivot3's load balancer ensures all camera and sensor data is spread across all ports in the cluster. This allows it to capture 3,000 cameras at 15FPS without losing data.
Integrated Security Systems (ISS) video management and video analytics software runs on the Pivot3 HCI cluster. The video analytics software features will help Bogotá with traffic flow and control, as well as situational awareness analysis to look for potential threats in highly populated areas.
It's unquestionably a smart city system but we can't call it an edge computing system, not when it's located in a data centre.
A Quantum of Solace
Yesterday's tape hero and today's struggling dedupe and scale-out file manager Quantum is looking to complete a refinancing package by the end of the year.
According to an 8K SEC filing concerning a Term Loan Agreement: "The Company views the Term Loan Amendment and the Revolving Loan Amendment ... as an interim step in its implementation of a comprehensive refinancing package, which it anticipates completing by the end of calendar year 2018. The Company has retained financial advisors to assist its refinancing efforts."
Quantum hired a new CEO and president, Jamie Lerner, in June this year. He is also board chairman.
The firm is in a bit of a financial reporting mess and is facing a NYSE delisting threat. Quantum is late in filing its SEC Form 10-K for the year ended 31 March, 2018, and its Form 10-Qs for the three months ended 31 December, 2017, and 30 June, 2018. The NYSE has granted it an extension until 15 January, 2019, to file them.
It is also investigating accounting irregularities, having received an SEC subpoena relating to them.
The tenor of these results is likely not good if Quantum needs to refinance.
Scality bumps up its open-source credentials
Object storage supplier and multi-cloud data management wannabe Scality has joined the Cloud Native Computing and Linux Foundations, and announced an open-source Kubernetes distribution, MetalK8s.
Scality moved into the multi-cloud era with its Zenko product, an open-source public cloud gateway and controller. This is an S3-based data mover, moving data from on-premises apps out to AWS or Azure clouds to be stored in native format, and moved back again if needed. MetalK8s grew out of Scality's Zenko development team's search for the best way to manage Zenko on-premises for large customers. Early versions of Zenko employed Docker Swarm, which was thought to be too limited.
No existing Kubernetes implementation was satisfactory to the Zenko team so they built their own.
Scality said it has "a strong foundation with the open source installer, Kubespray, and other tools, like Prometheus and Grafana. However, because the Scality team has parsed the often baffling options, MetalK8s' deployments only require few key decisions from operators. The result is a simplified deployment path for a new Kubernetes cluster on bare-metal, with easier long-term maintenance."
There is a MetalK8s GitHub project here.
Snowflake edges closer to an IPO with CFO hire
Cloud data warehousing startup Snowflake has hired a CFO.
Thomas Tuchscherer's CV is interesting: prior to Snowflake, he spent eight years as Talend's CFO and led it through a successful IPO.
Before Talend, he had finance exec stints at SAP, Business Objects and Cartesis.
CEO Bob Muglia issued the usual platitudes: "I am delighted to have him on board to help Snowflake navigate through this phase of rapid growth and global expansion."
What's the difference between NVMe over TCP and RoCE? About 3-4µs, says Solarflare
Solarflare has claimed its NVMe-over-TCP tech is within 3-4µs of RoCE NVMe. NVMe over TCP uses ordinary Ethernet, not the more expensive lossless data centre bridging (DCB) class required by RDMA-based NVMe RoCE.
Ahmet Houssein, Solarflare veep for marketing and strategic development, said the lossy nature of ordinary Ethernet is mostly due to congestion. If that is controlled better then the loss rate falls dramatically. "Our version of ordinary Ethernet is nearly lossless... If you take [lossy Ethernet] away, why do you need RDMA and DCB extensions for Ethernet?"
He added that a test result using Dell servers "says we're almost within 3 per cent of RoCE".
Houssein said Solarflare's kernel bypass technology, which works with TCP in user space instead of having to switch to kernel space, is not proprietary; POSIX-compliant Onload is available to use by anyone and doesn't need application re-writing.
Solarflare said Onload delivers half round-trip latency in the 1,000 nanosecond range. In contrast the typical kernel stack latency is about 7,000 nanoseconds.
The TCPDirect API builds on Onload by providing an interface to an implementation of TCP and UDP over IP. TCPDirect is dynamically linked into the address space of user-mode applications, and granted direct (but safe) access to Solarflare's XtremeScale X1 hardware.
Solarflare claimed TCPDirect can reduce latency from 1,000 nanoseconds to 20-30 nanoseconds under very specific circumstances with ideal hardware. According to a Google cache version of the TCPDirect user manual: "In order to achieve this, [extreme low latency] TCPDirect supports a reduced feature set and uses a proprietary API."
"To use TCPDirect, you must have access to the source code for your application, and the toolchain required to build it. You must then replace the existing calls for network access with appropriate calls from the TCPDirect API. Typically this involves replacing calls to the BSD sockets API. Finally you must recompile your application, linking in the TCPDirect library."
In contrast: "Onload supports all of the standard BSD sockets API, meaning that no modifications are required to POSIX-compliant socket-based applications being accelerated. Like TCPDirect, Onload uses kernel bypass for applications over TCP/IP and UDP/IP protocols."
It is our understanding, from talking to Solarflare, that all existing NVMe-over-Fabrics suppliers and startups are adding NVMe TCP to their development roadmaps.
Houssein said that, with NVMe TCP, you don't need all-flash arrays, merely servers talking NVMe TCP to JBOFs. You don't have to move compute to storage with this because the network pipe is so fast.
Pure Storage will support NVMe TCP in 2019, and Houssein believed NVMe-oF array startups will move their value up the stack into software.
The prospect is that NVMe-oF is an interim or starting phase on the transition of all-flash arrays from Fibre Channel (FC) and iSCSI access to either NVMe over FC or TCP. The NVMe TCP standard will be ratified in a few months and then server and all-flash system suppliers will adopt it as it provides the easiest route for current Ethernet users to upgrade to NVMe-oF storage access speed. Ditto NVMe FC and FC SAN users.
We might expect customers to start adopting NVMe FC and TCP from 2019 onwards, once their main system suppliers have their NVMe TCP products lined up in a row.
Veeam and Cisco HyperFLex
Veeam has expanded its collaboration with Cisco to deliver Veeam High Availability on Cisco Hyperflex providing scalability, ease of management, and support for multi-cloud environments through Cisco support services.
HyperFlex is Cisco's hyperconverged infrastructure product.
Veeam said the product's features include:
Hyper-availability for all workloads — virtual, physical and cloud
Seamless scalability and reduced operational costs
Reduced risk and accelerated time to value
Simplified and optimised deployment: a single Cisco SKU that includes all installed software and right-sized hardware
Simple single point of acquisition and support from Cisco
Veeam Availability on Cisco HyperFlex is expected to be generally available in the fourth quarter of 2018.
WANdisco gets closer to IBM, Microsoft and Alibaba
UK data replication firm WANdisco said IBM has widened their OEM agreement. The OEM royalty increases to 50 per cent from the previous 30 per cent and there is a guaranteed annual minimum royalty commitment.
There is joint engineering work to support IBM BigSQL and other products, which, WANdiso said, will significantly expand the addressable market.
It has strengthened its relationship with Microsoft, citing gaining Co-Sell Status, allowing WANdisco's Fusion Live Data Platform to be sold as a standard packaged offering with Microsoft Azure.
There have been three strategic deals with high-profile Microsoft customers; a major bank, a semiconductor company and a major retailer which migrated from Amazon to Microsoft. All three deals have annual recurring revenues with significant growth potential.
It has an OEM sales partnership with Alibaba Cloud and first product now integrated with its cloud solution. WANdisco has filed a blockchain patent to potentially open a new market for its technology, and Dr Sakthi Subramanian has joined WANdisco as veep of engineering.
CEO and interim chairman David Richards said: "In the first half [of 2018] we began the transition toward predictable, annual recurring cloud revenue and away from large and difficult to forecast on-premise transactions." That means a slight bookings fall when comparing the first half of 2018 – $9m – with the year-ago $10.2m.
Richards added: "These cloud deals are initially smaller in revenue terms but are expected to scale materially over time as is common with cloud deployments."
Zadara gets ze funding for ze growth
Virtual private storage array startup Zadara has pulled in a $25m C-round of funding, taking its total raised past $60m.
The round was led by IGP Capital with participation from existing investors. Its closing is conditional upon the approval of the general meeting of Zadara.
The cash is for expanding Zadara's worldwide sales, DevOps and engineering teams, and service provider partner channel. It will also help it the business develop its service.
Zadara arrays are available via public clouds, including AWS, Google Cloud Platform and Azure, managed service providers, data centres, colocation partners, and on premises in customers' data centres.
It provides file, block and object services, and customers pay for them with usage-based pricing. Zadara has upcoming all-flash arrays with compression and deduplication.
The company was founded in 2011, and had an A-round in 2012 and a B-round in 2013 with a second instalment in 2015. Three years later we have this $25m. In summary that's seven years' development averaging $8.5m a year.
Shorts
Asigra has announced its TrueNAS Backup Appliance, which combines Asigra Cloud Backup V14 software with iXsystems' TrueNAS storage, featuring the OpenZFS open-source file system and volume management.
Software startup Cloudtenna has introduced a Global File Search (GFS) solution that, for the first time, provides native desktop integration into Microsoft's Cortana digital assistant and Apple's Spotlight search feature.
Databricks and Snowflake have opened a strategic partnership building a connector between Databricks' Unified Analytics Platform and Snowflake's cloud-built data warehouse.
Huawei announced a new SPC-1 benchmark result for its OceanStor 5300 V5 array, quite similar to its existing OceanStor 5500 V5 result. The headline numbers were:
SPC-1 IOPS – 450,212
SPC-1 Price-Performance – $416.27/SPC-1 KIOPS
SPC-1 IOPS Response Time – 0.577ms
SPC-1 Overall Response Time – 0.409ms
SPC-1 ASU Capacity – 11,768GB
SPC-1 ASU Price – $15.93/GB
SPC-1 Total System Price – $187,405.32
Object Matrix and FlavourSys are working together to deliver an integrated MAM to storage workflow, with Object Matrix's MatrixStore integrated with Strawberry, the production asset management tool from FlavourSys.
ODPI (Linux Foundation) has unveiled Egeria, the industry's first open metadata standard, creating a set of open APIs, types and interchange protocols to allow all metadata repositories to share and exchange metadata. More information here.
OpenIO has released SDS 18.04, the latest version of its object store. It features Service IDs to map internal services to an internal service directory that is accessible to all nodes in the cluster, instead of to IP addresses. This feature will allow the software to support hybrid (on-premises + cloud) configurations, Docker containers, and Kubernetes in production. It also has improved S3 compliance and a beta of container snapshots.
Pivot3 has announced its Intelligent Edge Command and Control solution, a hybrid cloud solution to support the infrastructure needs of defense, intelligence and other extreme operations at the "tactical edge". It said it is a fully self-contained computing infrastructure platform that transforms vehicles, ships and planes into micro-data centres.
Toshiba Memory Europe has introduced the N502, a family of UHS-II EXCERIA PRO SD cards, with a minimum data transfer speed of 90MB/s, a maximum read speed of 270MB/s and a maximum write speed of 260MB/s; an equivalent of Video Speed Class 90; UHS Speed Class 3 or SD Speed Class 10. ®