Strewth! Aussie ISP gets eye-watering IPv4 bill, shifts to IPv6 addresses
When the bottom line gets bashed, priorities change
---
For years, internet engineers have predicted that the cost of an ever-smaller pool of IPv4 addresses would cause people to shift to the internet's new IPv6 protocol. Well, it finally appears to be happening.
Speaking at the annual conference of Australian Network Operators late last week, the managing director of ISP Aussie Broadband, Phillip Britt, told attendees that his company had decided to speed up IPv6 adoption after it calculated the growing cost of sticking with IPv4.
"The high cost of IPv4 space led to us speeding up our IPv6 project," Britt noted in his presentation [PDF], "and we are now looking at carrier-grade NAT vendors as a longer term solution rather then buying more IPv4 space."
CG-NAT is still not IPv6 but it is a step forward to moving to the new protocol, and comes after Britt revealed that his company had spent AU $380,000 ($273,000, £212,200) acquiring a /18 block of IPv4 addresses back in June. It has calculated it needs to buy another equally sized block of just over 16,000 addresses next month – which will cost even more: AU $405,000 ($291,000, £226,200).
He calculated that that new block would only last until the end of November, requiring yet another expensive purchase. Put into a spreadsheet, the cost of sticking with the old addresses becomes all the more stark: it will save the company millions of dollars to shift to IPv6.
"Moving to CG-NAT has become an economic decision," Britt noted, adding that over the next three years it would be AU $11.9m cheaper to upgrade its core network than keep purchasing IPv4 addresses.
Not waiting
Originally the company was not planning to move to Carrier Grade NAT (CG-NAT) – where end users are given private network addresses that are then translated into public IPv4 addresses at middleboxes in an ISP's network – until it was in a position to offer native IPv6, Britt told attendees.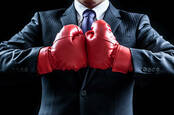 We've found another problem with IPv6: It's sparked a punch-up between top networks
READ MORE
But once the figures were crunched and the hardware cost of AU $7.2m ($5.2m) to introduce CG-NAT was compared to IPv4 address costs of AU $4.8m ($3.5m) in the first year, AU $6.7m ($4.8m) in the second, and AU $7.6m ($5.5m) in the third, the decision was easy.
That's a move that will be welcomed by many internet engineers who have long despaired at the incredibly slow rollout of IPv6 even as IPv4 address have slowly dried up. Shifting to IPv6 is not easy, and comes with its own problems and costs, thanks in large part to the fact that the two protocols are not compatible. It is still only 25 per cent of traffic despite being drawn up 20 years ago.
As a result, most companies have fallen back on technology that allows them to make more of existing IPv4 addresses, even though that approach breaks the engineer's end-to-end principle. Why? Because money talks.
In this case, however, despite the decision to invest in NAT technology, Aussie Broadband has also decided it needs to speed up its IPv6 rollout. And it has used financial arguments to make that case.
"Savings are actually deeper if you include core network upgrade into IPv4 purchase figures," Britt noted. ®