This article is more than 1 year old
Microsoft Azure: It's getting hot in here, so shut down all your cores
US customers wake up to sleepy cloud service
Updated Microsoft has warned that a "subset of customers in South Central US" may experience Azure problems today after cooling issues sent the servers scurrying for the shutdown button.
The warning was first raised by Microsoft at 09:29 UTC as pretty much everything in the South Central US region went offline thanks to a temperature spike that caused servers to automatically shut down to avoid damage.
Users, as ever, took to Twitter to beat the Windows giant with the social media stick as they found production services and websites hosted by the cloudy service were down.
Azure South Central Us seems to experience some big problems. Multiple services down (VM, app services...) And the support page doesn't load either... @AzureSupport inform us, please!!

— Àngel Casanova (@nglCasanova) September 4, 2018
Microsoft has claimed that other regions are not affected, although at the time of writing even the status page for the service had gone for a cooling drink and a lie down somewhere in the shade.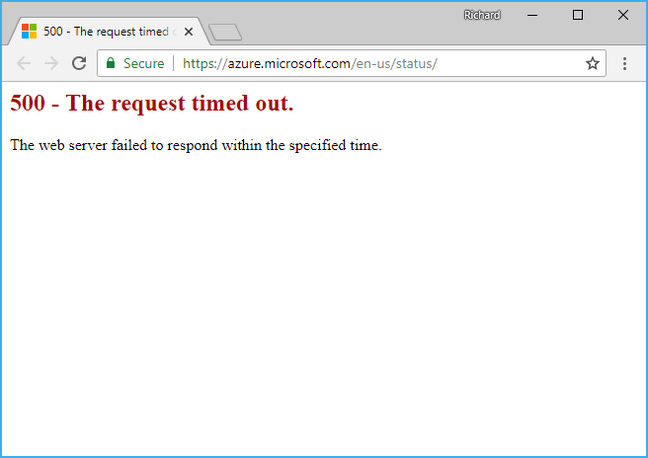 A very unhappy Azure status page
The Redmond boffins said the cooling problem has been isolated and engineers are now working feverishly to bring services back online.
Microsoft has form with cooling problems. Its Northern Europe data centre in Dublin also took some time out to enjoy the warm weather back in June.
Although the rest of the Azure regions are apparently up and running in this latest incident, one critical component is down, which will affect users globally. The Azure Resource Manager does exactly what the name suggests, and problems with the service will cause administrators all manner of deployment and management headaches.
@AzureSupport Hey! I see there is some non-regional issue with Azure Resource Manager on your status pager. Can we get some details? I'm in North Europe region and "Get-AzureWinRMUri -ServiceName foo" is just hanging.

— l00k (@stiltonfondu) September 4, 2018
Developers, dependant on Microsoft's Visual Studio Team Services platform, are struggling too as that service has also fallen over. The issue is global, judging by the wailing on social media.
come on guys, this is critical infrastructure for devs, we cant pull, push, merge, ETA please

— Stewart Pavitt (@StewartPavitt) September 4, 2018
Microsoft has not given an estimate for when the problems will be resolved and did not immediately respond to a request for comment.
In the meantime, perhaps we should give thanks that for some the US Labor Day holiday has been unexpectedly extended rather than complain about servers sweating. ®
Update
While there appears to be no end in sight to the pain for South Central US customers, Microsoft has ominously added that its engineers are now "actively monitoring for impact to other regions". Uh-oh.
A midday update from Visual Studio Team Services also indicated that devs in the affected region should forget about accessing their account until the problem was resolved and "other regions may experience high failure rates and load times". Uh-oh again.
The team at Redmond has promised an update by 16:35 UTC, by which point devs in European time zones will have packed up for the day.
Final update
The rain continues to fall from Microsoft's cloud as the software giant admitted that Office 365 is also having problems. Issues are being reported with Exchange, Power BI, Sharepoint, Teams and Intune.
At one point OneDrive for Business had also gone for some tea and biscuits.
Microsoft insisted in its ticket MO147606 that only customers hosted out of the San Antonio data centre are affected. However, users around the globe are reporting problems connecting to services with some unable to even get to the Office 365 Admin Center.
Microsoft has yet to give an indication of when the problems will be resolved. In the meantime, a pint of "Cascading Failure" anyone?