This article is more than 1 year old
Qualcomm's tardy chip upgrade leaves the Great Wearables Reveal to jokers and clowns
The Android comeback must wait a little longer
IFA The world's largest annual electronics trade show, IFA in Berlin, was supposed to be where wearables and in particular smartwatches returned from the dead.
If a big theme emerges from IFA then retailers can make last-minute changes to their Christmas retail plans. If it doesn't, they focus on what they can flog.
But Qualcomm failed to get its new silicon ready on time, to the tangible dismay of vendors. Qualcomm hadn't updated its smartwatch chip for three years, during which time tech brands gave up and left the "open smartwatch platform" market to designer and fashion brands (another prediction of ours that was spooky).
It's not as though retailers haven't been disappointed by smartwatches before: since the category appeared in 2014, it's been one big letdown for everyone but Apple.
Qualcomm's current smartwatch chip is the Snapdragon 2100, a repurposed phone SoC that's now three years old. It had two wearable SoCs lined up for 2018. One was for kids' devices: the Snapdragon Wear 2500. In May Qualcomm hinted that the grown-up version was sampling and would be ready for the autumn. Technically, it's autumn, and it's only just sampling now. So IFA has come and gone without any new Wear OS gear. A launch is likely on 12 September.
Google has its software ready, but without the new chips what's the point? Google announced a third version of its Wear OS (originally Android Wear) would be delivered via OTA updates in the next month, but it also poured cold water on the idea that there would be any new Pixel-branded watches in 2018. So there.
That left a press pack in Berlin hungry for wearables stories looking at a bizarre array of novelties.
The one that caught the most attention was ZTE – which means you'll be unlikely to ever be able buy it in the United States, or maybe even much of the West. ZTE was struggling to cross the cultural divide even before the spooks and POTUS chimed in. Its Nubia Alpha attracted plenty of attention.
Nubia is a name I first heard in 2015 thanks to a surreal experience at MWC, where a Top Person at ZTE showed me a Google-free Android he was confident would storm Europe.
We humbly suggested that in order to succeed in Europe, in addition to Google services, it needed some work in the localisation department. How much? About this much: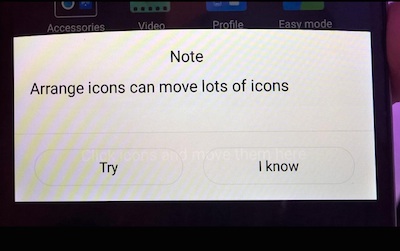 The Nubia Alpha is a "wearable smartphone" with a flexible OLED display embedded in a wrist strap. You talk into it, like Dick Tracey, or a Secret Service agent talking up his sleeve. Lenovo touted something similar a couple of years ago – but that was a proof of concept: that you could actually bend an OLED around a human limb. The flexible display is the most interesting thing about it.
Nubia (ZTE) just threw a #wearables curve ball at #IFA2018. The nubia-α is a "wearable smartphone" with a curved full colour display, eSIM (4G) and a camera for selfies/video calling. Available in 4Q18. 1/2 pic.twitter.com/qS1UZtKGu8

— George Jijiashvili (@George_CCS) August 31, 2018
Some better pictures of the Nubia Alpha. This is one of my top picks from #IFA2018. It's not a gamechanger in it's current form but we may look back to regard this as a key stepping stone in wearable devices with flexible displays. @nubiasmartphone #Wearables pic.twitter.com/YJ4df8cMZz

— Ben Wood (@benwood) September 1, 2018
Flexible displays do not make a lot of sense for a phone – Samsung may be crushingly disappointed here – but they make much more sense for wearables. On a wearable, the deficiencies of the flexible display over the incredible contemporary displays we have on phones may be compensated by the comfort factor. Perhaps.
But I'm not sure that putting a phone into a watch can overcome stubborn resistance from consumers. If it was going to become mass market, it surely would have by now. Samsung's first watchphone was the SPH-WP10.