An advocacy group funded in part by Oracle posed as a Russian internet troll farm to call attention to what it claims is Google's failure to police online political ad sales.
To demonstrate shortcomings in Google's ad sales oversight, Campaign for Accountability (CfA) spent about $100 (~6,800 rubles) on political ads over the summer. It did so using a Google AdWords account created in the name of the Internet Research Agency, a group indicted for interfering with the 2016 White Race race in February by US Special Counsel Robert Mueller.
"Notwithstanding its notoriety, CfA was able to easily set up a Russian AdWords account, using the name, street address and tax identification number of the St. Petersburg-based troll farm," the group's report says. "Google even helpfully prepopulated the troll farm's contact details."
The CfA created a 30-second YouTube video using Facebook content from accounts previously linked to Russian discord operations, such as Brown Power, Black Matters and Blacktivist. It used demographic, keyword, and audience information for ad targeting, including interest based categories like "African-American", "Politics" and "Scandals & Investigations," which it claims Google says it does not allow.
Google says it does not allow categories like race in personalized advertising (which used to be called interest-based advertising and is more commonly referred to as behavioral targeting). It also offers placement-targeted advertising, for targeting specific sites rather than interests.
Click bait
The sting operation ads, the group says, appeared on websites and YouTube channels, including CNN, CBS This Morning, The Daily Beast, Huffington Post, AnnCoulter.com and Britain's Daily Mail. Among the three ad campaigns run, there were about 20,000 impressions and something like 200 clicks, a clickthrough rate of around one per cent.
"When I look at the types of ads Google runs on its platform, it doesn't seem like they've done anything to cut down on these ads," said Daniel Stevens, executive director of CfA, in a phone interview with The Register.
About a week ago, Google published a blog post celebrating its efforts to identity state-sponsored hacking and foreign influence campaigns. The small scale of the test run may have helped the CfA ads escape notice; we're told the accounts in question have been suspended for misrepresentation, as per policy.
CfA describes itself as a "nonprofit watchdog organization that uses research, litigation, and aggressive communications to expose misconduct and malfeasance in public life." But group is unwilling to expose those who pay for its operations.
Asked whether Oracle is still funding the group and whether donors direct it to pursue specific investigations, Stevens said only, "CfA does not disclose its donors and we receive funding from a wide variety of donors."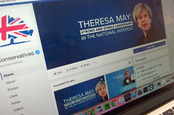 How the Facebook money funnel is shaping British elections
READ MORE
Oracle has a long history of antipathy toward Google, dating back to its 2010 lawsuit against the search, ads and apps biz over its use of Java in Android. Though Google won the initial decision, Oracle prevailed on appeal and Google is now seeking to have its arguments heard by the US Supreme Court. If Google fails to obtain a reversal, Oracle will get to argue for damages. The database maker has previously asked for $8.8bn.
In a statement emailed to The Register, a Google spokesperson said the company has built numerous controls and systems to identify foreign troll accounts.
"To date, largely because of this work, the abuse from foreign entities has been limited," Google's spokesperson said. "Now that one of our US-based competitors is actively misrepresenting itself, as part of a stunt to impersonate Russian trolls, we have taken further appropriate action to upgrade our systems and processes. We'd encourage Oracle and its astroturf groups to work together with us to prevent real instances of foreign abuse – that's how we work with other technology companies."
The Register asked Oracle to confirm that it funds CfA, and whether it would like to respond to Google's comment.
Via email, Oracle senior vice-president Ken Glueck replied: "We have absolutely no idea what Google is talking about. This is the first we've heard of this. Wish we had a ruble for every time Google blamed their problems on us." ®