This article is more than 1 year old
UK.gov: NHS should be compensated by firms using its data goldmine
Code of conduct will guide tech firms' work with health sector
The UK government has said the NHS should be "fairly rewarded" by private firms that slurp patients' data.
Outlining proposals for a code of conduct for data-driven care technologies, health minister James O'Shaughnessy said the aim is to create a "safe and trusted environment" for healthcare innovation.
The Technology Partnerships Code of Conduct – which the government will launch a consultation on today – aims to ensure the NHS gets a good deal on tech partnerships.
It will set guidelines on how patient data is to be protected and include 10 commercial principles detailing how companies should work with the health sector, and what the NHS expects in return, for instance discounted access, equity or royalty schemes.
The government said the code "encourages companies to meet a gold-standard set of principles" when striking a deal with the NHS. "Encourages" is, of course, the operative word, as the code is initially expected to be voluntary.
The move came amid efforts to boost data crunching in the health sector, especially artificial intelligence, which is seen as crucial in the government's never-ending search for "efficiencies".
But the government also has to deal with continued concerns about NHS data sharing, both within the public sector and with private companies – the most high profile being the fudged deal with Google's AI arm DeepMind Health.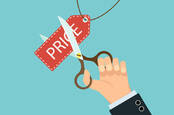 Peers told to push for cut-price access to med tech developed with NHS data
READ MORE
NHS data is widely considered one of the best resources of health data, with unrivalled longitudinal datasets – and has unsurprisingly attracted the attention of large numbers of private firms, particularly from the US.
However, use of that data is contentious, with heated debates over how the cash-strapped health service can benefit from its information goldmine.
A common proposal is for the NHS to gain cut-price access to medical tech, while others have suggested the health service make it easier for companies to use and access its data.
In a January report, Reform mooted offering pseudonymised datasets for firms to train their AI algorithms – but said this should go hand in hand with a framework specifying access conditions.
This idea is echoed in the government's plans for its Code of Conduct, which the government said had been drawn up to ensure that patient data is protected, and so that healthcare providers choose tech that is safe, effective and secure.
"These principles provide a basis to deepen the trust between patients, clinicians, researchers and innovators," said O'Shaughnessy during the NHS Health and Care Innovation Expo.
"This is an important first step towards creating a safe and trusted environment in which innovation can flourish to the benefit of all our health."
The code and an accompanying consultation form is due to be published later this afternoon. ®