Sales and marketing software slinger HubSpot has suffered an outage – amid the Inbound 2018 marketing conference and just one day after it revealed plans to shift all its cloudy plumbing onto AWS.
The online wobbles, which began at 0507 EDT (1007 UK time), took down a number of customers' websites right in the middle of the three-day web marketing conference, including ansible.com, the official website for Red Hat Ansible.
At the time of publication, HubSpot was "still working to restore website functionality".
Those websites directly linked to HubSpot accounts were completely KO'd by the outage, being redirected to holding pages with the message: "The HubSpot account associated with the domain '...' has expired."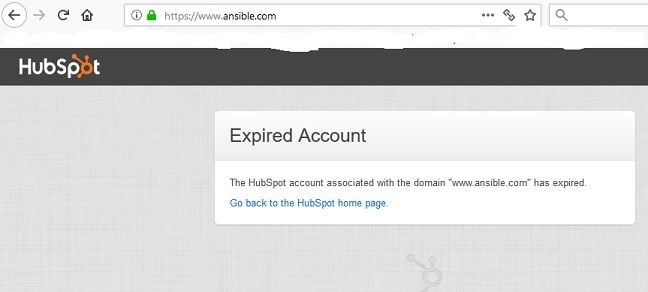 Ansible.com KO'd by Hubspot. Image lightly edited to remove Vulture Central's search history and bookmarks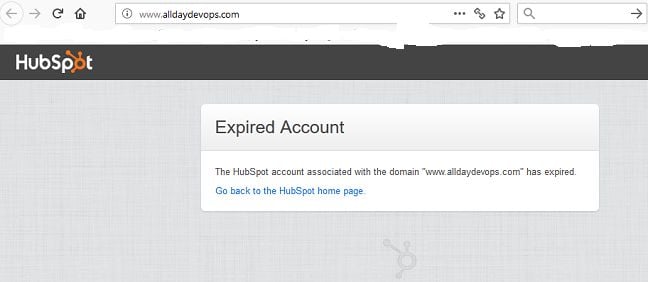 And another Hubspot customer website outage
Predictably enough, irritated users got on Twitter to start shouting at HubSpot…
@HubSpot This multi-hour long website outage is killing us! We pay thousands of dollars a month! Do something! @HubSpotSupport

— Link Labs (@LinkLabsInc) September 6, 2018
… while others at Inbound 2018, the Boston, Massachuchetts conference had a laugh at HubSpot's expense...
Excellent marketing stunt by the @hubspot team. Major software bug during the @Inbound summit: all landing pages down. Will they solve it live? #CantWait #INBOUND18 pic.twitter.com/7hJdFf5fSZ

— Romain Doutriaux (@RomainDoutriaux) September 6, 2018
... and some expressed concern for the impact of the outage on their businesses:
All #hubspot #enterprise accounts experiencing a major outage. too much party at #INBOUND18 . just hoping we don't lose major leads

— Deepak Vaidya (@deepakvaidya) September 6, 2018
"Scale and the ability to innovate at a faster rate are immensely important for our business, which is why we chose to take a cloud-first approach with AWS, making it our preferred cloud provider," cooed Brad Coffey, HubSpot's "chief strategy officer", as he declared earlier this week that HubSpot was moving all of its infrastructure onto AWS. He added: "We rely on AWS to ensure our cloud infrastructure is reliably supported even during unforeseen spikes."
While the outage is not AWS's fault, we have asked HubSpot whether it was caused by the migration of its non-AWS services onto the public cloud provider. A spokeswoman said:
"This was an internal issue and was not connected to our move to AWS. The issue impacted some of our Marketing Hub Enterprise portals, add-ons such as ads and website tools, and also caused loading issues with some live pages.
"As of a little after 7:00am ET, the team has fixed the issue that caused some portals to lose enterprise features, and is working to restore website functionality."
While chunks of HubSpot's core infrastructure – including its eponymous CRM as well as marketing, sales and service hubs – already run on AWS, the company is turning itself into a 100 per cent AWS shop. In addition to putting together an S3 data lake, HubSpot also said it uses various other Amazon products, including its machine learning and chatbots tech. ®
Similar topics