The Linux Kernel Maintainers' Summit was planned for Vancouver, Canada, in October – but it's been moved to Edinburgh, Scotland.
Because kernel chief Linus Torvalds slipped up and booked a family holiday there.
No, really – the change of plan was announced in this post to the Kernel Summit Discussion mailing list by core kernel developer Theodore Ts'o of MIT.
"Last Friday (just before Labor Day) I learned that Linus had gotten confused about when and where the Maintainer's Summit was going to be held this year. And most unfortunately, he has already scheduled a family vacation overlapping with the week of the Maintainer's Summit", Ts'o wrote.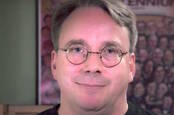 Linux kernel 4.18 delayed: Bug ate my rc7, says Linus Torvalds
READ MORE
After a probably-frenzied weekend discussing the snafu with the invite-only conference committee, Ts'o wrote, "ultimately there were only two choices that were workable" – go ahead without Torvalds, or move the summit.
And so it happens that everybody would rather ask the 30 or so attendees due to attend the summit to change their plans and head for Edinburgh instead of Vancouver, even though Torvalds suggested they go ahead without him.
As Daniel Vetter, a kernel engineer from Intel, observed on Twitter: "Linus books the wrong flight and they decide to move the entire conference. It's ... a cult."
The Linux Plumbers conference in November remains in Vancouver, Ts'o wrote, and retains its Kernel Summit track. He offered an advance apology for those who have to carry extra frequent flyer points as penalty for the slip-up. ®
Similar topics