On-Call The end of the week is upon us, which of course means another instalment of On Call, El Reg's column where our dear readers share their tech support crises.
And this time, we hear from "Barry", who ignored some sage career advice not to follow his teenage heart into electronics "because it was a hobby".
Instead, he started studying architecture, but dropped out, before eventually finding work at a firm where he could combine his various passions for buildings, art and electronics.
"About a year into this job, I installed a 3D motion capture system for a big hospital in the US," he said.
"The installation went fine and I left with everything working, and them planning a big official opening the next week."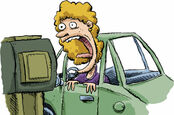 Fast food, slow user – techie tears hair out over crashed drive-thru till
READ MORE
However, a couple of days before the opening, the customer called Barry in a panic, saying the system didn't work.
"So I flew up to the lab and they demonstrated the problem – the cameras were seeing reflections everywhere and the software was totally confused," he said.
On further inspection, Barry figured out the problem was of their own making. "They had polished every surface because they wanted the lab to look nice for the opening day!" he recalled.
With time ticking away, Barry was left scratching his head – but then, in a flash of inspiration figured out what to do.
"I ran out, bought a bucket, a handful of scrubbers and an abrasive cleaner – and spent a couple of hours scrubbing the floor on my hands and knees," he said.
"Once it was back to its dull, non-shiny surface everything worked and I flew back home."
As Barry so wisely puts it, "tech support is whatever gets the job done".
Barry's tale reminded us of another reader's confession, where the mess created was rather less planned.
This chap, "Jason", was a software developer who decided not to bother tech support and deal with a cabling issue himself – by crawling up into the ceiling.
"Shortly thereafter, I fell through said ceiling, bouncing off an Intel blue box development system, before losing all momentum on the desk of a fellow developer," Jason said.
Perhaps even the most apparently simple tasks really are best left to the pros.
Have you ever had to get dirty to solve a tech support problem? When did you get called in to clean up someone else's mess? Tell On Call all about it, by emailing us here. ®