It's money for DRAM time at Round Rock server HQ, which we hope is buying the beers this afternoon. Dell dominated the server space and raked in the most revenues in 2018's second quarter, according to IDC.
The PowerEdge-flinger flashed the top revenues in the period: $4.25bn, up 53 per cent year-on-year. It shipped 574,600 boxes, up more than 16 per cent.
The server market is on an "historic" high, said IDC. Hyperscale is the main driver for a massive uptick in ODMs' numbers, although Dell seems to be doing especially well with hyperconverged. Overall, server sales hauled in $22.52bn in the quarter, up 43.7 per cent.
"The worldwide server market continues to flourish amid a market-wide enterprise refresh cycle and increasing demand from cloud service providers," said Sanjay Medvitz, senior research analyst for server and storage at IDC.
He said big biz was still investing in the pipes and plumbing to support the latest applications, "Hyperscalers also continue to update and expand their data centre presence, benefiting ODM direct suppliers".
The revenue jump across the market was due to a spike in average sales prices."This is due to richer configurations, DRAM prices, and new processor platforms," he said.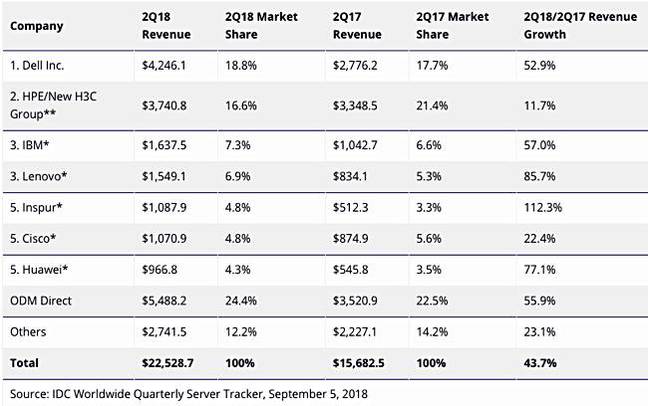 IDC's Q2 calendar 2018 server revenue numbers.
It's the first time Dell has been number one in quarterly server revenues, at least by IDC's count, and means the firm has overtaken second-placed HPE, whose sales were way off the pace, up just 11.7 per cent to $3.74bn. HPE has said it is playing for profits rather than market share. HPE unit sales fell 12.4 per cent to 443,700.
IBM snuck into third in terms of server revenues, growing 57 per cent to $1.637bn. This was due to healthy trade of mainframes and Power systems. IBM didn't feature in the top five vendors for unit shipments. Lenovo reported sales of $1.549bn, up 85.7 per cent and units of 224,100, up nearly 54 per cent.
ODM Inspur broke into the top five most valued server sellers in the quarter, posting factory revenues of $1.087bn, up 112.3 per cent, on shipments of 203,200 units, up almost 70 per cent. And in joint fifth was Cisco with $1.07bn, up 22.4 per cent year-on-year rise. Huawei crossed the quarterly finishing line with sales of $966.8m, up 77.1 per cent.
In fact, ODMs - Chinese contract manufacturers that are building servers to order for the likes of Facebook, Google and Microsoft - reported combined sales of $5.488bn, up 55.9 per cent.
The big brands have had a stab at competing with these companies but have so far failed to make inroads. The Others sector came in at $2.741.5bn, up 23.1 per cent. ®