This article is more than 1 year old
Supermicro wraps crypto-blanket around server firmware to hide it from malware injectors
BMC software updates to check code signatures after researchers hit red alert
Researchers claim to have discovered an exploitable flaw in the baseboard management controller (BMC) hardware used by Supermicro servers.
Security biz Eclypsium today said a weakness in the mechanism for updating a BMC's firmware could be abused by an attacker to install and run malicious code that would be extremely difficult to remove.
A BMC is typically installed directly onto the motherboard of a server where it is able to directly control and manage the various hardware components of the server independent of the host and guest operating systems. It can also repair, alter, or reinstall the system software, and is remotely controlled over a network or dedicated channel by an administrator. It allows IT staff to manage, configure, and power cycle boxes from afar, which is handy for people looking after warehouses of machines.
Because BMCs operate at such a low level, they are also valuable targets for hackers.
In this case, Eclypsium says the firmware update code in Supermicro's BMCs don't bother to cryptographically verify whether or not the downloaded upgrade was issued by the manufacturer, leaving them vulnerable to tampering. The bug could be exploited to execute code that would then be able to withstand OS-level antivirus tools and reinstalls.
To do this, an attacker already on the data center network, or otherwise able to access the controllers, would need to intercept the firmware download, meddle with it, and pass it on to the hardware that will then blindly install it. Alternatively, a miscreant able to eavesdrop on and fiddle with internet traffic feeding into an organization could tamper with the IT team's BMC firmware downloads, which again would be accepted by the controller.
"We found that the BMC code responsible for processing and applying firmware updates does not perform cryptographic signature verification on the provided firmware image before accepting the update and committing it to non-volatile storage," says Eclypsium.
"This effectively allows the attacker to load modified code onto the BMC."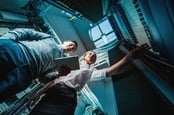 Can we talk about the little backdoors in data center servers, please?
READ MORE
In addition to running malware code beneath the OS level, the researchers said the flaw could also be used to permanently brick the BMC or even the entire server. Even worse, a potential attack wouldn't even necessarily require physical access to the server itself.
"Because IPMI communications can be performed over the BMC LAN interface, this update mechanism could also be exploited remotely if the attacker has been able to capture the admin password for the BMC," Eclypsium warned.
"This requires access to the systems management network, which should be isolated and protected from the production network. However, the implicit trust of management networks and interfaces may generate a false sense of security, leading to otherwise-diligent administrators practicing password reuse for convenience."
Fortunately, Eclypsium says it has already reported the bug to Supermicro, who responded by adding signature verification to the firmware update tool, effectively plugging this vulnerability. Admins are being advised to get in touch with their Supermicro security contacts to get the fix in place. ®