Guys, geez... finally 5Gs: AT&T grows super-fast mobile net city rollout
More American cities will get super-fast mobile internet
---
AT&T has promised real-world rollouts of 5G super-fast mobile internet in five more US cities before the end of the year, taking the total to 12, with another seven due next year.
"5G is finally here," said AT&T's chief technology officer Andre Fuetsch opening up its Spark conference in San Francisco this morning – with a stress on the word 'finally.' San Francisco won't get the telco giant's 5G tech until 2019, however, Fuetsch noted that this weekend AT&T had just carried out "the world's first mobile 5G call."
That call was done using the full 5G standard and production equipment in a real-world setting (well, Waco, Texas) with "a mobile form factor device", he noted. In other words, the company has managed to get the tech to the point where it is confident it can bring it to consumers within the next few months.
That's good news to people living in the five extra cities – Houston, Jacksonville, Louisville, New Orleans, and San Antonio – which should get the next-gen network this year (AT&T had previously announced plans for Atlanta, Charlotte, Dallas, Indianapolis, Oklahoma City, Raleigh, and Waco). And if you live in Las Vegas, Los Angeles, Nashville, Orlando, San Diego, San Francisco or San Jose – 5G should turn up in 2019.
That's all exciting stuff – 5G will allow your mobile phone to work as fast as your laptop – but the opening session titled "Path to 5G" and featuring senior executives from Nvidia and Samsung felt all-too familiar. Lots of talk about the amazing future possibilities but very little about the day-to-day realities.
Despite being repeatedly prodded by AT&T's Fuetsch, Samsung's VP of product strategy Justin Denison refused to give any details of upcoming mobile phones that can handle 5G. The best we got was that there will be a new product that will launch some time next year. And then he was off talking about 360-degree video broadcast to headsets – more future loveliness but of course those headsets are still very far from becoming a consumer reality.
Waiting
And talking of that, Magic Leap's chief content officer Rio Caraeff was also on stage. Magic Leap has signed an exclusive deal with AT&T to bring its headset to the masses but Caraeff immediately admitted that 5G won't be available until some future unspecified version of its hardware is released. And, we note, AT&T is using Microsoft's Hololens headset in a demo at the conference.
Caraeff also embarked on shiny-future predictions about how augmented reality headsets will be "the next wave of computing" where "the digital world is seamlessly integrated into the physical world." Once you experience this "spacial computing" nothing will ever be the same again, he swears.
Fortunately, we did have more grounded speakers. Nvidia's VP of sales Paul Bommarito is focused on the gaming community and the company gave a demo of a game played on a laptop that it claimed was working over 5G.
If is was over 5G and not just a demo of Nvidia's GeForce over Wi-Fi, it was pretty impressive. The network stats were shown on screen: 60 frames-per-second (fps) with an HD resolution (1920x1080) and a 16 millisecond lag. That's enough for everything but the highest-end gaming.
Of course the big issue, now that AT&T is confident it has the standards-based technology actually working in the real world, is getting 5G to users.
Due to the way the technology works, 5G needs many more base stations that the current 4G tech – and that comes with a whole host of other rollout costs and problems. Big Cable is doing everything in its power to pull down the cost of installing millions of base stations across the US – from new, cheaper tech to new regulations and laws at both the local and federal level to make it easier, and cheaper, to stick base stations on other people's property.
Good gig
One of the most interesting and potentially game-changing approaches is also at the AT&T Spark conference: Project AirGig.
This is a pet project of AT&T's Labs division – its research and development arm – and it comprises egg-shaped devices that snap onto powerlines and send out Gigabit speed bandwidth. The technology works right now, the AirGig folk we talked to assured us. It can easily send multi-Gig speeds, it is not impacted very much by the weather, it's not expensive and it could be easily installed - even by drone - they claim.
The egg-capsules would only need to be attached every three poles or so, one of the reps told us, and could be a quick and easy solution for the rural United States. It would massively reduce the need – and hence cost – for fiber in the ground.
So why aren't they rolling them out now? Why aren't they announcing a deal with the Bay Area's electricity monopoly PG&E today? Money and politics it seems.
Power companies know they have tremendous leverage over telcos that need access to their physical poles and the cost of installing equipment on those poles varies wildly, but can be as high as several hundred dollars per month per pole.
To its credit, the Federal Communication Commission (FCC) is trying hard to lift some of these financial drags on the rollout of 5G – even if its efforts tend to run roughshod over legitimate processes and concerns.
Project AirGig is also showcasing a proof-of-concept model that includes a 5G base station with its egg capsule – with the idea that it will sit on the top of everyday wooden power poles.
It would power itself from the power lines, and make 5G readily available to everyone close to the station – several hundred yards, most likely. We spoke to one of the project leads who outlined the possibilities.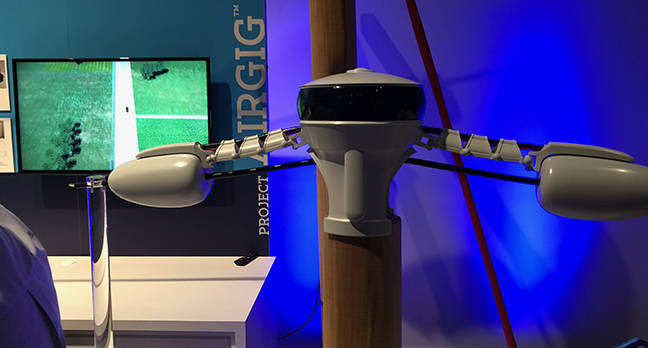 The AirGig proof-of-concept: if you see this outside your house, welcome to 5G!
Back to the real world
But, of course, the fantasy is harder to pull off in the real world: he told us that in tests on AT&T's campus using off-the-shelf components hit snags. The setup is ultimately going to need its own special chipset, he warned.
But, of course, if AT&T can strike a big enough deal to install its equipment on power lines right across the country, then special chipsets go from a big barrier to an urgent need if its means vast, national 5G coverage.
In short, 5G has grown one step closer to reality. It's still going to take a while but it could well be that when you buy your next phone in two years' time you find that it is suddenly much, much faster. And all the tech on display at the Palace of Fine Arts this week will be what's behind that sudden speed increase. ®