Dell outearned IBM in its latest quarter, reporting revenues of $22.94bn in Q2 2019 ending 3 August, compared to the $20.1bn turned over by Big Blue in its own latest quarter.
However, the firm expressly refused to answer the question on everyone's lips – about the potential Dell plans to go public – in the earnings call. Senior investor relations veep Rob Williams said at the outset: "We will not address nor will we take questions related to the Class V transaction."
Dell made a GAAP net loss of $461m, compared to $739m 12 months ago. It paid off $2.6bn in debt, had operating cash flow of $2.6bn, and counted up $21.5bn in cash and investments.
Client Solutions Group (notebooks, PCs, workstations and displays) revenue was $11.1bn, up 13 per cent. Commercial revenue also grew 13 per cent to $8.1bn and Consumer revenue was up 14 per cent to $3.0bn.
Dell boasted about its highest share position to date for total worldwide units and commercial units at 18.2 per cent and 22.8 per cent respectively.
Infrastructure Solutions Group (ISG) revenues were 24 per cent up on the year at $9.2bn. Within that, storage did $4.2bn, up 13 per cent, while servers and networking grew 34 per cent, reaching $5.1bn.
The company said – going by IDC numbers – it was the worldwide leader for x86 servers in the quarter, both in units and revenue.
William Blair analyst Jason Ader wrote that: "Storage growth was driven by strength in Dell EMC's next-generation solutions... and improved performance in backup and recovery. Dell also saw better sales in its struggling commercial midrange storage segment."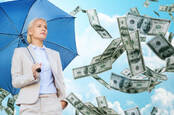 All clouds rain into VMware's steadily swelling coffers
READ MORE
In the earnings call, Jeff Clarke, vice-chairman, products and operations, said: "Demand was up in file-based arrays, high-end storage and data protection offerings. Our focus remains on driving velocity in the midrange."
In comparison to Dell's storage number, NetApp's latest revenues were $1.47bn, almost a third of Dell's. VMware revenue for the second quarter was $2.2bn, up 11 per cent.
Revenue from other businesses – including Pivotal, Secureworks, RSA Security, Virtustream and Boomi – was $574m, up just 6 per cent, pedestrian in comparison to ISG and the client products.
Michael Dell said: "We are in the early stages of a global, technology-led investment cycle in which every company is becoming a technology company. As our results indicate, Dell Technologies is perfectly positioned to grow, gain share, drive innovation and be our customers' best, most trusted partner on the journey to their [brace yourselves, readers] digital future."
Dell referred to changes it had made to its storage product and sales compensation plans. Clarke spoke of "progress we've made in the last year simplifying the portfolio, improving the competitiveness product lines... crisping up our marketing campaign..."
He also talked about a "new mid-range product in which we are focused on and committed to have next year", possibly a single product covering the current Unity and SC product areas. "We are going to be competitive in the primary storage space," he added.
On Dell's storage sales capacity, CFO Tom Sweet commented: "We're mid-range [in] an investment cycle in the enterprise selling organisation in terms of storage coverage." Basically, he means more and better incentivised sales heads on the ground and stronger channel programmes. The firm added lots of sales heads in the first quarter.
Ader reckoned Dell's storage area still faces problems. "Dell EMC will continue to face challenges in its storage business in the near to medium term given significant product overlap, outdated products in certain key areas, inherent channel conflicts (VARs still fear Dell taking deals direct), and a poor reputation for support."
However, storage should grow more strongly in the next couple of quarters, and servers and client systems are doing well. ®