Server SANs aren't eating into the external SAN market, at least as far as analyst IDC's storage tracker numbers are concerned.
It has been predicted that server SANs, which aggregate local storage in a cluster of servers into a virtual SAN, would gradually take over the SAN market. Products such as VMware's VSAN, and hyperconverged infrastructure appliances from Dell EMC (VxRail) and Nutanix, are enjoying higher growth rates than SAN storage arrays.
IDC's quarterly storage tracker showed the storage market growing 21.3 per cent year-over-year to $13.2bn in 2018's second quarter, with 111.8 exabytes total capacity shipped – a 70.7 per cent jump.
IDC tabulated the top five vendors, comparing their performance over 12 months, both for total storage and then external storage only.
Dell is the overall storage supplier king, ruling the roost in total storage sales and, now that it has acquired EMC, external storage sales as well.
All storage
Have a look at IDC's table: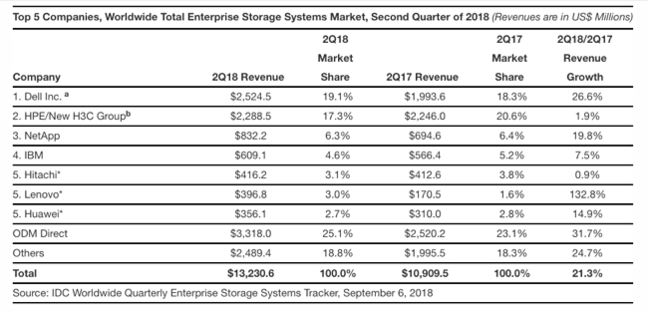 Click to enlarge
There are two groups of vendors – one with more than $2bn revenues, and the other with sub-$1bn revenues. The first consists of individual suppliers Dell and HPE, first and second respectively, the Others category, and then the ODM Direct category with its leading $3.3bn revenue, up 31.7 per cent on the year. That's the effect of hyperscale web giants buying their storage from the ODMs, with ODM Direct accounting for a quarter of the quarter's storage revenue.
Below this is the pack – NetApp, IBM, Hitachi, Lenovo and Huawei.
Dell revenues grew 26.6 per cent on the year, more than the market's 21.3 per cent, and HPE's flatlined at 1.9 per cent growth. 
Third-placed NetApp almost matched the market growth rate with its 19.8 per cent, IBM undershot it at 7.5 per cent and joint-fifth Hitachi almost perfectly flat at 0.9 per cent. Huawei was another market grower with a 14.9 per cent rise.
Lenovo's storage sales recovered with a 132.8 per cent upward swing to propel it into joint-fifth.
External Storage
The supplier positions are different when external storage is counted separately: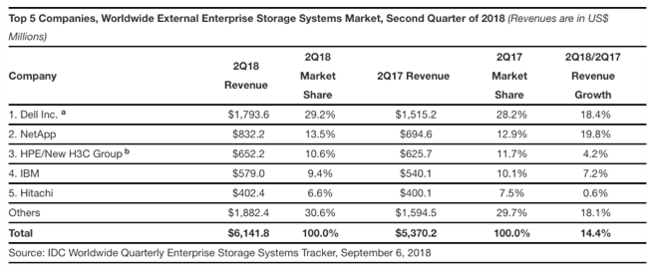 Click to enlarge
Dell is in a class of its own with $1.79bn revenues, up 18.4 per cent, and no ODM Direct company. The Others leads overall with its $1.88bn, up 18.1 per cent on the year.
Then there are the rest:
NetApp – $832m, up 19.8 per cent
HPE – $652m, up 4.2 per cent
IBM – $579m, up 7.2 per cent
Hitachi – $402m, up 0.6 per cent
This part of the market grew at 14.4 per cent – IBM lagged behind, HPE grew even more slowly and Hitachi almost stood still. Although NetApp grew strongly, Dell's market share is more than twice NetApp's and its storage sales are accelerating. 
Dell is top dog and there's no sign that HPE, the only realistic challenger, is doing anything else than falling further behind. NetApp is doing well in external storage but has half Dell's share.
External storage vs server SAN
How is external storage doing with regard to server-based storage?
We looked at external storage numbers as a percentage of total storage numbers in this and previous IDC storage trackers and don't see servers taking over yet. Here's what the IDC storage tracker numbers look like: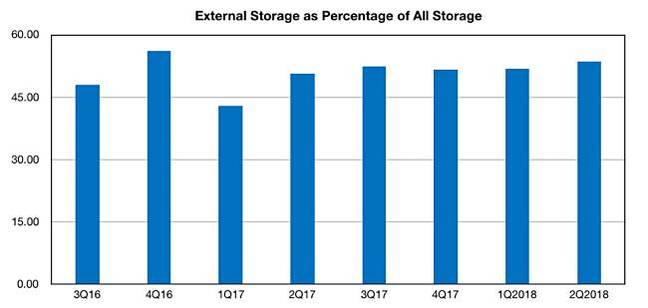 The SAN proportion seems to be holding steady, after a fall at the end of 2016. There's no obvious sign of any server SAN incursion into SAN turf here, yet at least. ®