This article is more than 1 year old
Apple in XS new sensation: Latest iPhone carries XS-sive price tag
iPhone XS, XS Max and XR coming soon, and Apple Watch gets a major update
Apple on Wednesday held its annual mobile device pageant at its Steve Jobs Theater in Cupertino to acquaint the fascinated with its latest fondleslabs, phones and wrist wraps.
Despite the secrecy – which failed after developer Steve Troughton-Smith found Apple's products listed in an XML file on the company's website – and the ritual surrounding the serial "Special Event," it all played out pretty much as predicted.
"Today we're going to take iPhone 10 to the next level," declared Apple CEO Tim Cook, not long after COO Jeff Williams, gushing about the Apple Watch, said, "We're taking Apple Watch to the next level."
Huge handsets
Apple doubled down on its notched iPhone X bet by introducing two follow-on families: The iPhone XS, which has a beefier sibling dubbed the iPhone XS Max, and the iPhone XR, a slightly more modest alternative.
The company has also doubled the number of mobile accounts its iPhones can support, for those who want stereo mobile carrier bills. Thanks to Apple's implementation of eSIM technology (called Dual Sim), the XS and XR models can accommodate two distinct phone numbers from different carriers on the same device, a capability supported under Google's Android operating system for a while.
The internet has already taken to calling Apple's flashy flagship device the "iPhone Excess," sparing would-be wags the need to call out the device's one-grand plus pricing.
The spec dump follows:
iPhone XR
Price: $749+ (pre-order: Oct. 19; available Oct. 26)
Screen: 6.1-inch LCD
Storage: 64GB, 128GB, 256GB, and RAM: 3GB
Rear Camera: Single 12MP (f/1.8, OIS)
Colors: white, black, blue, yellow, coral and (PRODUCT)RED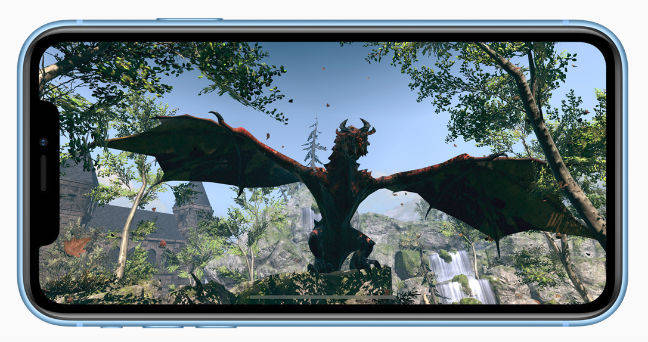 The XR should further Apple's AR plans
iPhone XS
Price: $999+ (pre-order: Sept. 14; available: Sept. 21)
Screen: 5.8-inch OLED
Storage: 64GB, 256GB, 512GB, and RAM: 4GB
Rear Camera: Dual 12MP (f/1.8, 1.4µm, OIS/f/2.4, 1.0µm OIS 2X)
Colors: space gray, silver and gold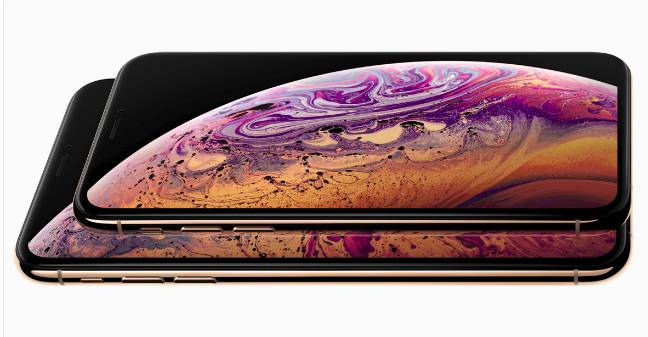 The Excess and its sibling
iPhone XS Max
Price: $1,099+ (pre-order: Sept. 14; available: Sept. 21)
Screen: 6.5-inch OLED
Storage: 64GB, 256GB, 512GB, and RAM: 4GB
Camera: Dual 12MP (f/1.8, 1.4µm, OIS/f/2.4, 1.0µm OIS 2X)
Colors: space gray, silver and gold
Chips go bionic
The XS and XR lines feature a 7nm Arm-compatible Apple A12 Bionic chip, which is capable of five trillion "operations" per second, rather a tad more than A11's 600 billion operations per second. Its Neural Engine has been tuned to handle Apple's Core ML code, which the company claims runs 9x faster than it does on its A11 chip with as little as 1/10 the energy.
The A12's Fusion architecture includes two performance CPU cores that, Apple says, are 15 per cent faster and 40 per cent less demanding of power. The chip also has four efficiency cores that use 50 per cent less power. And it includes an eight core Neural Engine that's designed to accelerate machine learning.
The chip also appears to support pointer authentication, a feature Arm introduced to its Armv8.3-A architecture last year to defend software from security bug exploits.
The XS Max is rather substantial, as if it aspired to be an iPad but bailed before the steroids took hold. Its screen is larger than the 6.4-inch Samsung Galaxy Note 9.
Apple's XS phones boast an IP68 rating for water and dust resistance, so they should be able to survive being dunked to a depth of two meters for 30 minutes. The XR only gets IP67, signifying that it can withstand a one-meter diving expedition for the same period of time.
The XS camera includes a feature called Smart HDR, which takes a series of exposures with any snapshot to deliver optimal exposure. The device's Portrait mode now includes depth control, allowing image depth of field to be adjusted after capture.
All three iPhones run on iOS 12, coming September 17. Cook also let on that macOS Mojave is coming September 24th.
One off the wrist
The Apple Watch received an update, one that should be well received thanks to meaningful new capabilities.
"Apple Watch is really redefining what a watch can do for you," said Cook.
The Apple Watch Series 4, starting at $399 (with GPS) or $499 (with GPS plus cellular), comes in 40mm and 44mm and features a larger display screen, a louder speaker, and a mic that has been moved away from the speaker for less phone call echo. Battery life is said to be about 18 hours or 6 hours of constant usage with GPS tracking turned on.
It's based on Apple's S4 chip, which the company claims is 2x faster than its predecessor and capable of sampling motion eight times faster.
This accelerated data capture capability allows support for fall detection, something that will make Series 4 watches particularly useful for elders or anyone else who'd benefit from health-oriented oversight. Apple's wrist thing will even make an automatic emergency services call if a wearer who falls remains motionless for one minute.
Williams said Apple studied falling with thousands of people to get its Watch falling algorithm right. We hope they're okay.
"The new Watch Series 4 is a big step forward for moving further into connected health, and with the newly announced hardware improvements, Apple is well positioned to continue dominating smartwatch sales," said Vincent Thielke, a research analyst with Canalys, in an email to The Register, suggesting the health capabilities will expand the device's appeal.
"These [health-oriented] features will be particularly relevant and useful for older consumers, although the push may come from their adult children rather than from the senior demographic themselves."
Further enhancing its utility as a health device, the Series 4 includes an electrode in its dial – which Apple rather grandly calls the Digital Crown – making it capable of electrocardiogram measurement with Apple's new heart-monitoring ECG app.
"This is the first ECG product offered over the counter to consumers," Williams claimed. US medical drug watchdog the FDA warns people not to replace their doctor with the gizmo.
The Series 4 will also notify wearers if their heart rate is too low or if atrial fibrillation is detected.
Ivor Benjamin, president of American Heart Association, was invited on stage and called the device's ability to capture real-time heart data "game-changing."
That's a significant improvement from "next level." ®