Updated Microsoft really wants you to use Edge in the latest Windows Insider builds, and the software giant is not afraid to let you know it.
Windows Insider Sean Hoffman took to Twitter last night to express his displeasure at a pop-up shown by Windows 10 when he attempted to install an alternative browser. When he ran the Firefox installer, a pop-up showed up suggesting perhaps he'd like to stick with Edge. It is safer and faster, after all (according to Microsoft).
Hoffman, running build 17744.1004, the current slow ring version of the next release of Windows 10, pulled no punches in his reaction.
@MicrosoftEdge What kind of slimy marketing cesspool crap is this Microsoft? I proceed to launch the Firefox installer and Windows 10 pops this up? If I wanted to use your browser, I would. pic.twitter.com/f7jk9sGvYA

— Sean Hoffman (@SeanKHoffman) September 11, 2018
Clearly an unhappy chappy.
Microsoft is no stranger to this type of behaviour, having triggered a tsunami of internet rage when it floated the idea of making Edge the default browser for hyperlinks in emails. The software giant swiftly backtracked on the idea.
The perceived heavy-handedness of the tactic has left the internet all a-quiver, with some social media reactions making Hoffman's seem calm and measured by comparison. The outrage is perhaps a little unfair. Google, for example, has adopted similar tactics to plug its own browser when using its search engine without incurring quite the same wrath.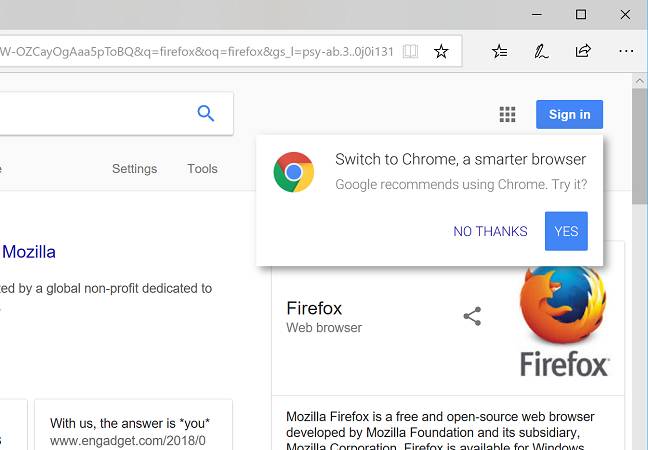 And Google really would really like you to use Chrome
Having an operating system detecting the binary of an installer starting up and suggesting an alternative is, admittedly, another level.
The issue appears to stem from a new option due to be unleashed on the public as part of the Windows 10 October 2018 Update, where the Microsoft Store will make suggestions for alternative apps during normal use of the operating system. There is already an option present in the April 2018 Update to control if apps can be installed from sources outside of the store.
It seems this new option for suggestions has been set to "On" by default, hence the pop-up when installing an alternative browser.
It is not outside the realms of possibility to imagine that similar messages might appear if the Microsoft Store reckoned that an alternative music player, productivity suite or cloud storage provider might be a better bet than the user's preference.
Thankfully the option can be deactivated, although it does raise yet more questions regarding how much monitoring of user activity is going on in Windows 10, along with why the option should opt users in by default.
Microsoft is doubtless gauging reaction to the setting since this is still a preview version of Windows 10. However, with adverts continuing to stealthily make their way into the operating system, it is a sign of things to come.
The Register has contacted Microsoft to check if this option will remain in Windows 10 and default to "On". We will update the story if we hear anything. ®
Updated at 1050 UK time on 14 September
A Microsoft spokesperson told El Reg: "We've tested this functionality with Insiders only – The Windows Insider Program enables Microsoft to test different features, functionality and garner feedback before rolling out broadly. Customers remain in control and can choose the browser of their choice."
We feel for whoever has had to wade through the "feedback" on this one.