Whisky business: Uni of Edinburgh servers Irn-Scru'd by cyber-attack
Computers nerfed with naff packets during Scottish college's Freshers week
---
Updated The University of Edinburgh has gone offline from what appears to be a massive distributed denial-of-service attack on the campus network.
As a result, the Scottish college's websites and wireless network gateways are down due to a flood of junk traffic during its first week of class.
So far no student or faculty data is believed to have been slurped, and the uni has reported the incident to UK's National Cyber Crime Bureau.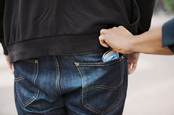 IT worker used access privs to steal £1m from Scottish city council
READ MORE
The school's supercomputing centre appears to not have been affected by the attack, at least. The uni's internet provider, JISC, did not respond to a Reg request for comment on the matter, but did tell the Edi Evening News that the university believes the attack is limited to the one of its network.
This isn't the first time Edinburgh U has made headlines for a cyber snafu. Last year, a problem with the uni's email system ended up causing some students to erroneously be told they wouldn't be able to graduate on time.
This also wouldn't be the first time a British uni had its networks crippled by a sustained DDoS attack. In 2015, the University of London saw its online learning portal knocked offline by a prolonged attack.
If Edinburgh doesn't know the source of the attack yet, they may want to check on the snack bar. Last year, an unnamed University was crippled by a DDoS launched by a malware infection in its own IoT vending machines. ®
Updated to add
It now appears the problem is much wider than first thought,
"While Jisc is responsible for protecting connections to the Janet Network for its members (colleges, universities and research centres), members are responsible for protecting their own cyber space," JISC said in a statement.
"However, Jisc also provides DDoS threat intelligence to its community and provides advice to members affected by cyber attacks on how to deal with the problem and minimise the impact."