The former head of IT for the US city of Detroit will spend the next 20 months behind bars for taking bribes while he was in office.
Charles Dodd had served as director of the city's Departmental Technology Services (DTS) from 2014 to 2016, during which time he bagged nearly $30,000 in bungs from tech companies. He pleaded guilty to one count of federal bribery back in 2016, but was only formally sentenced on Tuesday this week.
Dodd, a long-time city employee, admitted to taking payments from potential contractors as far back as 2009. In exchange, he would use his influence to push the city to award lucrative service contracts to his benefactors.
"Dodd held numerous supervisory positions with the City of Detroit, culminating with his appointment as Director of DTS in 2014," the DOJ said in announcing the 20-month prison term.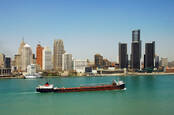 City of Detroit's IT boss took payola from tech suppliers, now faces jail
READ MORE
"In those positions, Dodd exercised supervisory authority over a staff of dozens of city employees and contractors, and held substantial influence over the administration of multi-million-dollar contracts between the City of Detroit and private information technology companies."
One of those making the payments was Parimal Mehta of FutureNet Group. Mehta, who also copped to bribery charges, said that he would often slip Dodd envelopes of cash in restaurant bathrooms during lunch meetings.
In addition to the roughly $15,000 in cash payments over seven years ($6,500 of that while Dodd was running the DTS), Mehta said that he also paid for a trip for Dodd to North Carolina, gifted him expensive bottles of Cognac and arranged jobs at FutureNet for members of Dodd's family.
In exchange, Mehta was given inside information about the city's IT budget and the inside track on being awarded multi-million dollar contracts to provide services for various city departments. A second, unnamed company, was said to have paid Dodds around $14,500 in cash in a similar arrangement.
On top of the 20 months behind bars, Dodds will be he also face two years of supervised release and an $8,500 asset forfeiture. ®