A Nigerian scumbag will be spending the next five years in an American clink after pleading guilty to operating an email phishing scam targeting businesses around the world.
Onyekachi Emmanuel Opara was given a 60-month sentence and ordered to pay $2.5m in restitution after pleading guilty to charges of wire fraud and conspiracy to commit wire fraud amounting to $25m.
Originally from Lagos, Nigeria, Opara was arrested in South Africa in 2016 and extradited to the US to face charges in January of this year. His codefendant, David Chukweneke Adindu, pleaded guilty to conspiracy to commit wire fraud and conspiracy to commit identity theft charges. Adindu was sentenced to 41 months late last year.
The two were said to have masterminded a series of Business Email Compromise (BEC) phishing scams targeting companies in the US, UK, Australia, Switzerland, Sweden, New Zealand, and Singapore between 2014 and 2016.
In the scam, the men would pretend to be a supervisor at the target company or a third-party contractor or business partner, enrolling an employee within the company as an unwitting insider accomplice.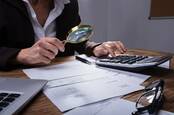 Scammers ahoy! International police operation harpoons 74 email whaling suspects
READ MORE
"The emails purported to be from supervisors at those companies or from third party vendors with whom the companies did business," Uncle Sam's prosecutors said this week.
"In reality, the emails were either sent from email accounts with domain names very similar to those of the companies and vendors, or the metadata for the emails was modified to make it appear as if the emails had been sent from legitimate email addresses."
Having been duped by the spoofed addresses, the target would then be asked to transfer a sum of money for what they were told was a legitimate transaction, but was actually an account controlled by the scammers. The US Dept of Justice says that the scammers attempted to con their targets out of more than $25m.
In one case the duo posed as investment advisers and convinced another investment house to wire over $25,000 to a fake account to cover an apparent annuity payment. They then asked for another $75,000 but by then the scam had been uncovered.
In a second case, mentioned in the court documents [PDF], a metalworking business in Illinois, the two sent an email pretending to be the CEO and instructed a staffer to wire over $85,000. The next day they requested another $325,000 but the alarm had already been raised.
In a second phase of the scam, Opara created a fake profile of a woman on dating sites and used the money to coerce men on the site into either sending their own money to Opara or acting as money mules for the BEC operation, receiving payments from the scammed businesses and then transferring it overseas as a wire transaction. That operation resulted in Opara and Adindu making around $600,000. ®