Adobe, the maker of reassuringly expensive software for creative types that have limited tech alternatives, has again wrapped up another quarter of double-digit jumps in both the top and bottom lines.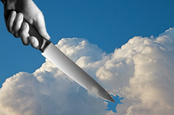 Adobe kills Creative Suite – all future features online only
READ MORE
For the three months ended 31 August – Adobe's Q3 of fiscal '18 (PDF) – turnover jumped 24 per cent year-on-year to $2.29bn and the lion's share of this was generated in the cloud.
Subscriptions came in at $2.021bn, up from $1.57bn in the same quarter of 2017. In comparison, classic product sales were $149.127m, down 6.1 per cent. Services/support was up to $120.4m from $111.7m.
The business has come a long way in converting customers to its cloud-based stuff: back in 2013 Adobe confirmed that future versions of Creative (CS6) would be available only online. There was a lot of initial upset from clients and channel sellers, but that settled down once they realised they didn't have a lot of choices.
The Digital Media division grew 21 per cent to $1.61bn – Creative grew 28 per cent to $1.36bn and the Document Cloud segment was up 21 per cent to $249m.
CFO John Murphy told analysts on an earnings call that Adobe had bagged new subscription wins across the US, Europe, Japan and Asia Pacific, "driven by robust traffic and customer acquisitions on adobe.com".
Individual app subscriptions were up with the Photography plan and Acrobat; Acrobat unit growth was actually up a fifth in the Creative and Document Clouds. Murphy said the company retained customers that shifted from promo to standard pricing and managed to convince existing punters to expand seats and adopt more services.
Annualised recurring revenue – a useful metric of how cloud services sales are progressing – came in at $6.4bn, up $339m on the prior quarter. Creative Cloud ARR was up to $5.66bn and Document Cloud was $744m.
The Digital Experience division was up 21 per cent year-on-year to $614m, and subscription revenue here jumped by a quarter.
"Performance in Q3 was driven by success across our Analytics Cloud, Marketing Cloud and Advertising Cloud," said Murphy, "with particular strength in Audience Manager, which is our data management platform, and in Adobe Campaign."
In May, Adobe bought e-commerce services provider Magento for $1.68bn, and reported a revenue contribution of $27m for Q3.
Total operating expenses jumped more than $200m year-on-year to $718.6m. After tax and interest expenses, Adobe was left with a net profit of $666.29m, versus $419.56m a year earlier.
Other classic tech vendors must be watching Adobe's progress in the cloud with envy, but most other vendors haven't cornered their markets in quite the same way. ®