This article is more than 1 year old
Russia: The hole in the ISS Soyuz lifeboat – was it the crew wot dunnit?
Station commander issues suitably withering response
The whodunnit over the hole in one of the International Space Station's Soyuz lifeboats took a lurch for the surreal this week as reports in Russian media suggested a US astronaut may have deliberately drilled it so the crew could return home.
We'll just let that sink in for a moment.
The report said that an American reluctance to pay for a new Soyuz, should the crew have to return due to illness, led an astronaut to take matters into their own hands. Or rather a power tool into their own hands, and then to the side of the Soyuz. An evacuation due to a fault in the Soyuz would obviously point the finger at Roskosmos.
NASA has yet to issue a statement on the matter, nor comment on reports that Roskosmos has asked the US space agency for data on the astronaut's health. Officials are probably checking their calendars to verify that this isn't some sort of Russian April Fools. In September.
While the whispering continued, veteran space journalist William Harwood took the opportunity afforded by a space-to-ground interview on Tuesday to ask ISS commander Drew Feustel: Was it the astronaut, with the drill, in the Soyuz?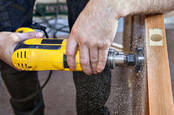 Roskosmos admits that Soyuz 'meteorite' hole had more earthly origins
READ MORE
The unsurprisingly terse response was: "I can unequivocally say that the crew had nothing to do with this on orbit, without a doubt, and I think it's actually a shame and somewhat embarrassing that anybody is wasting any time talking about something that the crew was involved in."
A full report is still to be published on the incident. In the meantime, it is worth considering that both the US and former USSR have experience of sick astronauts in orbit. The roomier environs of the Apollo capsule led to a number of astronauts being overcome with nausea, and five of the nine crew members of Skylab suffered.
However, in those instances, astronauts conspired to conceal their illness to complete their missions rather than, er, pop a hole in the side of the spacecraft in order to come home earlier.
While the implications for the already strained partnership between Russia and the US aren't good, NASA expects to be launching its own astronauts from US soil next year and commence assembly of its Lunar Gateway in 2022. Hopefully the engineers at Boeing and SpaceX will be a little more careful with their power tools. ®