The mysterious shutdown and evacuation of a solar research laboratory, tucked away in a forest in New Mexico, USA, has sent the internet abuzz with a flurry of conspiracy theories.
The Sunspot Solar Observatory (SSO), located in the Sacramento Mountains, was switched off earlier this month, and staff ordered to leave. The FBI is involved to some degree – agents have been seen visiting the facility and inspecting its equipment. It is not clear whether the SSO's site operators, AURA, called in the Feds, or the Feds called AURA. AURA is the Association of Universities for Research in Astronomy, not some kind of shadowy military outfit.
"On Thursday, September 6, AURA made the decision to temporarily close Sunspot," the observatory's website reads right now. "The Sunspot Solar Observatory continues to work closely with AURA in order to allow for us to reopen as soon as possible. With the excitement this closure has generated, we hope you will come and visit us when we do reopen, and see for yourself the services we provide for science and public outreach in heliophysics."
Excitement is one word for it. Cue an explosion in bonkers conspiracy theory YouTube videos and message board threads about how the FBI is silencing fears of an imminent planet-shredding solar flare that is going to destroy humanity – or, alternatively, agents are covering up the discovery of aliens.
The SSO focuses on studying the Sun, and is run by New Mexico State University (NMSU) and the National Solar Observatory (NSO). The building is managed by AURA. The association's spokesperson Shari Lifson told The Register that its closure was due to a "security issue."
"AURA is addressing a security issue at the National Solar Observatory facility at Sacramento Peak, New Mexico and has decided to temporarily vacate the facility as a precautionary measure. AURA, which manages Sacramento Peak with funding from NSF, is working with the proper authorities on this issue," Lifson said.
The association refused to confirm whether or not the FBI was involved in any way, nor whether the g-men ordered the lab to close. Otero County Sheriff Benny House, however, said FBI agents told him the observatory would be powered down for a few days. The FBI has not disclosed any more information about the alleged security issue, and also refused to answer any of The Register's questions, preferring to direct us back to AURA instead. Which also didn't want to talk any more about it.
"The FBI is refusing to tell us what's going on," Sheriff House said. "Nobody would really elaborate on any of the circumstances as to why. The FBI were up there. What their purpose was nobody will say."
The plot thickens and things get weird
It's been over a week since the lab was closed, so it doesn't seem to be a hoax nor a simple security breach. One scientist, James McAteer, director of the SSO and an associate professor at NMSU, didn't seem too fussed.
"It was AURA that ordered the evacuation," McAteer told El Reg over the phone. When we quizzed him about the FBI's involvement, he said he didn't know anything about that, and couldn't confirm if investigators had set foot in the facility at all.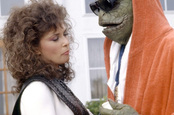 UFOs in the '50s skies? CIA admits: 'IT WAS US'
READ MORE
"They didn't speak to my people," he said, referring to folks who work at the two buildings containing the telescopes and the visitor's center.
When we asked McAteer if anything like this had happened before at the SSO, he said: "Yes, we've closed down before over snowstorms." We continued to press, and asked McAteer if he had asked AURA why the building had been evacuated and how the FBI were involved, or if he was even curious about what was going on. Bizarrely, didn't seem to be bothered. "I'm more interested in the Sun, because that's what I have a PhD in," he said.
"The Sunspot Solar Observatory performs world-class scientific research in heliophysics. We use the scientific method to critically evaluate theories with data, expanding our knowledge of the Universe. I can wax lyrically all day about the science research we perform and the public outreach we provide," he continued in a followup email.
But one thing he did clear up was that there are no signs of a devastating solar flare nor little green men. Some people have also suggested the Chinese might have hacked some equipment to spy on the US military's White Sands missile test site – although that facility is some 50 miles away.
"Solar flares have been erupting for millennia and will continue to do so," McAteer told us. "If there was anything out of the ordinary, we would have seen that. As an astronomer, I wish we had seen aliens. It would guarantee a perfect turnout of students in my classes. But as an astronomer I also know if there are any alien lifeforms in our part of the Universe, it is likely to microbial."
So there you have it, there's absolutely nothing to see here. No aliens. No killer flares. Just the sound of black helicopters hovering over our downtown office. And a knock at the d
Updated to add
"The Association of Universities for Research in Astronomy (AURA) has decided that the observatory will remain closed until further notice due to an ongoing security concern," SSO's Lifson reiterated in an email after we published our story.
"The rest of the National Solar Observatory (NSO) facilities [in Colorado] remain open and are operating normally."