This article is more than 1 year old
US Treasury goes after IT shops for funneling cash to North Korea
Meanwhile, Norks deny Sony hacker ever existed
The US Treasury department is placing new sanctions on two IT companies it believes to be sending money to North Korea.
The ruling bars two companies, China Silver Star and Volasys Silver Star, and one person, Jong Song Hwa, from owning any assets in the US or doing business with any US companies or contractors.
Based in China and Russia, respectively, China Silver Star and Volasys Silver Star provide IT services and workers for companies in those two countries. According to the Treasury department, both companies are a front and many of their staff are North Koreans, with hundreds of thousands of dollars being funneled back to the dictatorship in violation of trade sanctions.
The Treasury Department said that the two companies have been presenting themselves as locally owned and managed in China and Russia, but in fact Hwa has been overseeing both operations at the behest of the North Korean government.
"These actions are intended to stop the flow of illicit revenue to North Korea from overseas information technology workers disguising their true identities and hiding behind front companies, aliases, and third-party nationals," US Treasury secretary Steven Mnuchin said in announcing the sanctions yesterday.
"Treasury is once again warning the IT industry, businesses, and individuals across the globe to take precautions to ensure that they are not unwittingly employing North Korean workers for technology projects by doing business with companies like the ones designated today."
Randall Stephens, Keyser Söze, ...Park Jin Hyok?
Meanwhile in Pyongyang, the North Korean government is claiming that not only did Park Jin Hyok not carry out the Sony Pictures and Wannacry hacks, but there is no Park Jin Hyok.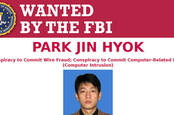 FBI fingers the Norks it wants to pinch for Sony hack, WannaCry attacks
READ MORE
The audacious claim came in response to allegations from the FBI that Park was the head of Lazarus Group when the hacking outfit ran its targeted attacks and lucrative ransomware operations.
North Korean officials said on Friday that Park is a figment of Washington's imagination, a fabricated character made up to pin the blame on North Korea in a 'smear campaign'.
"The act of cybercrimes mentioned by the Justice Department has nothing to do with us," North Korean researcher Han Yong Song said via a release from the state news agency.
"The US should seriously ponder over the negative consequences of circulating falsehoods and inciting antagonism against the DPRK that may affect the implementation of the joint statement adopted at the DPRK-US summit."
So we're guessing that's a 'no' on the extradition then. ®