This article is more than 1 year old
Quantum gets MESHy, speeds up StorNext with Excelero NVMeOF tech
Near-doubling of video workflow streaming speed
Quantum has near-doubled StorNext speed by using Excelero's NVMESH to provide faster data access than it's capable of providing on its own.
StorNext is a scale out, multi-tiered file data management product, including software and hardware such as the Xcellis arrays, popular with Media and Entertainment (M&E) customers. NVMESH is an NVMe-over-Fabrics server SAN implementation providing RDMA-access to block storage that cuts out the standard SAN storage I/O stack.
V6.2 of StorNext software provides support for Xcellis appliances with NVMe storage, which delivers 22GB/sec single-client, uncached streaming bandwidth. That compares to the 12GB/sec available from Fibre Channel access to the arrays. A Quantum chart displays this;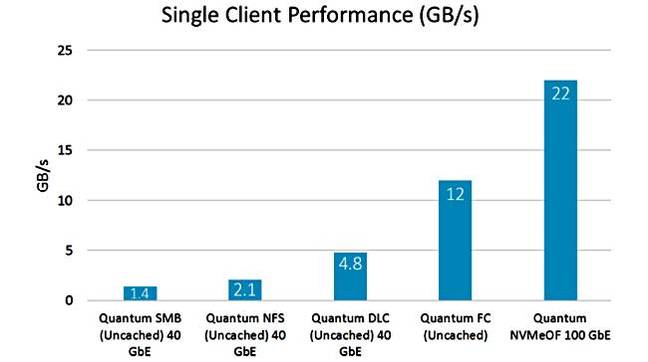 StorNext is the file access layer with NVMESH providing an underlying fast access block layer.
We first heard about M&E customers using Excelero's NVMesh to speed their workflows when we came across Pixit Media. StorNext customers were talking to Pixit about using NVMESH to accelerate their stodgy-looking workflows.
Our thinking was that it would make sense for Quantum to take NVMESH on board as well and, lo and behold, it's done the deed.
With StorNext plus Excelero all data is accessible by multiple clients in a global namespace.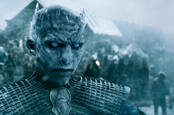 Stumbling StorNext ruins Quantum's solace
READ MORE
On top of this the V6.2 software update adds an S3 interface to Xcellis appliances. They can serve as targets for applications designed to write to RESTful interfaces or be a gateway to the cloud or an S3 target for web-based applications.
The new release also adds a new cloud monitoring tool  for Xcellis environments, enhanced FlexSync replication capabilities for local and remote replicas of multi-tier file system content and metadata, defined and enforceable quotas, quality of service levels for specific users and simplified reporting of used storage capacity.
For Excelero this Quantum reselling deal is good news, as it also is for Quantum which has been somewhat struggling of late, with a CEO change and a refinancing package nearing completion.
You can dig around in Quantum's v6.2 StorNext web pages here. The new S3 interface and NVMe storage option are both available today. Other StorNext features and capabilities will be available by December 2018. ®