This article is more than 1 year old
What's Big and Blue – and makes its veteran staff sue? Yep, it's IBM
Biz IT giant catches complaint alleging it lays off skilled older workers in favor of youngsters
IBM once again finds itself the target of age discrimination complaints from workers who claim they were unfairly laid off just because of their age.
A lawsuit – filed in a US district court in southern New York, where Big Blue is based – accuses the tech titan of violating California and North Carolina age discrimination laws by disproportionately laying off veteran employees and not considering older workers for new vacancies.
"IBM has discriminated, and continues to discriminate, against its older workers, both by laying them off disproportionately to younger workers and by not hiring them for open positions," the lawsuit, submitted on Monday, claimed.
"Over the last several years, IBM has been in the process of systematically laying off older employees in order to build a younger workforce. Between 2012 and the present, IBM has laid off at least 20,000 employees over the age of forty. Such discriminatory layoff and hiring practices constitute unlawful discrimination under the ADEA and state anti-discrimination law."
Named plaintiffs Edvin Rusis, Henry Gerrits, and Phil McGonegal are suing on behalf of themselves and a class of laid off IBM employees over the age of 40 who worked in either California or North Carolina.
The suit claims that IBM has been looking to make its workforce younger by looking to replace its long-time employees with people born after 1980. To do this, the suit claims that older workers were systematically targeted for layoffs and then were not allowed to apply for open positions in other departments. Those jobs instead went to the younger millennial workers.
The complaint also points to the March report from ProPublica on alleged age discrimination and a 2006 paper [PDF] published by IBM's consulting branch about aging workforces that appears to suggest older workers were less valuable.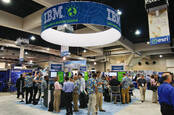 Stop us if you've heard this one: Job cuts at IBM
READ MORE
"Successor generations X and Y are generally much more innovative and receptive to technology than baby boomers, so changing the organizational technology and the processes it supports can be a wise move," that paper read.
"And such transformations can yield substantial and permanent incremental capabilities and increases in productivity."
This is not the first time IBM has been accused of unfairly targeting its more experienced hands in favor of youth, and laying off thousands of older staffers. Former workers have charged that everything from IBM's inconsistent employee evaluations to scrapping its work from home policy is designed to push out older employees and attract a younger class of workers.
IBM, meanwhile, denies the charges it is discriminating against older employees. Rather, it claims the moves are the result of shifting its focus from legacy tech to emerging fields.
"Changes in our workforce are about skills, not age. In fact, since 2010 there is no difference in the age of our US workforce, but the skills profile has changed dramatically," IBM said in a statement to The Register. "That is why we have been and will continue investing heavily in employee skills and retraining — to make all of us successful in this new era of technology."
Yet, one of the long-running allegations against IBM, though, is that it does not always offer retraining and new positions to older staff to fit them into roles that require new tech skills. Instead it prefers to simply lay them off, and lure in young talent otherwise applying for jobs at Microsoft, Amazon, and Google, it is claimed.
Meanwhile, the US government's Equal Employment Opportunity Commission is probing IBM for any signs of wrongdoing, after consolidating complaints against IT giant into a single in-depth investigation, Bloomberg reported today. ®